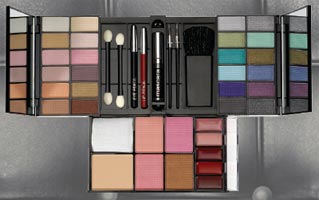 Australis Classic Kits
This Mother's Day, surprise Mum with an Australis Classic Kit, the make-up kit for all occasions.

This limited edition make-up kit captures the simplicity and versatility of a little black dress, with it's fantastic range of classic shades, for lips, eyes and cheeks.

Each shade in the kit has been hand picked, so a range of looks from daytime chic to smouldering smoky eye can be effortlessly created using only the cosmetics from this kit.

The Australis Classic Kit contains: 24 eye shadows, 4 blushes, 1 black mascara, 1 black eye pencil, 3 lip glosses, 2 lipsticks, 1 red lip pencil, 1 pressed powder and handy make-up applicator brushes.

RRP: $20.95
Available from Priceline, Kmart, Big W, Target and selected pharmacies nationally.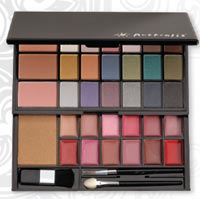 Australis Mystique
Captivate and Intrigue with the season's latest cosmetic shades in the new Mystique Palette from Australis.

From smoky eyes and rich bold lips to subtle earthy tones, it's easy to add an element of mystery to every occasion.

Housed in this clever slide out palette are 18 Australis eye shadows, 3 blushes, 1 bronzing powder, 7 lip glosses, 5 lipsticks and handy applicators so you have everything you need when you're on the go.

The Australis Mystique Palette's handy size means you will never be without your make-up basics. It's the perfect palette to keep in the office or in the car for quick post work touch ups.

RRP: $14.95
Available exclusively at Kmart.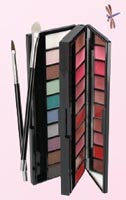 Australis Duet Palette - Twice the convenience, half the size
The perfect clutch friendly make-up palette is here. The Australis Duet Palette is a super sleek and slim new make-up compact, containing all your handbag make-up essentials, without the clutter.

Purse mayhem is a thing of the past, with 10 eyeshadows, 4 lipsticks and 6 lip-glosses all nestled snugly in this black palette, with matching brushes for added take anywhere convenience.

Perfect in size and shape, the Australis Duet Palette is the only palette that will comfortably fit in your clutch or little evening bag and still leave room for phone, wallet and other night time essentials.

RRP: $12.95
Available exclusively at Kmart.

For further stockist information on all 3 kits please call 1300 650 981.