Aramis and Ermenegildo Zegna
Aramis: A Contemporary Classic
Elegant. Sophisticated. Unmistakably masculine. Launched in 1964, Aramis was the very first men's fragrance to be sold in department stores. It pioneered what is today known as the men's grooming market with its 'master plan' for men that introduced twenty unique products. Now, over forty years later, Aramis still continues to flourish with a dedicated and devoted following.
A member of the chypre family of fragrances, Aramis is characterized by a warm, woodsy-mossy background vitalized with citrus, herbs, and exotic spices. Top notes of citrus (bergamot) and herbs immediately draw you into the fragrance. A warmth begins to appear as mid notes of sandalwood combine with other woods and spices to carry you along to the prize: a leathery, mossy smoldering conclusion.
Through the years - as product trends have come and gone - Aramis has remained the symbol of masculine success. Sold in more than 120 countries and territories worldwide, Aramis continues its reign as the leader in men's fragrance.
Aramis Father's Day Gift Set
The perfect gift for the contemporary classic dad, featuring all of his favourites. Celebrate Father's Day with this stylish set that includes an Eau de Toilette spray 110ml, After Shave Balm 100ml, and "24Hour" Deodorant Stick 75ml.
Available at Myer and David Jones nationally.
RRP: $105 (valued at $237)
The Aramis Collection
Eau De Cologne Natural Spray 60ml $79
Eau De Cologne Natural Spray 110ml $105
After Shave 60ml $59
After Shave 120ml $79
Stockists: 1800 061 326
Ermenegildo Zegna
The Z Zegna man is one who lives a fast-paced life in an urban environment. He is determined to achieve the goals he has set out for himself, but also grabs an opportunity when he sees one. He's worldly and tech savvy, and looks for a fragrance that is discrete and masculine. We think our new packaging reflects the youthful attitude and innate sense of style of the Z Zegna man.
Z Zegna - a scent for a new day
Taking its cues from the fashion collection that accompanies it, the Z Zegna fragrance can best be described as a woody, watery aromatic with sparkling head notes of white pepper, bergamot, casoar fruit and rosemary. At its heart are seductive notes of iris and nutmeg that lead into a sensual base of cashmere wood and patchouli.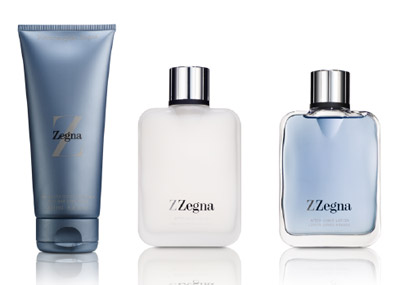 The bold packaging features type on both the bottle and box that more prominently pronounces the Z Zegna brand and a color palette that is eye-catching, manly and edgy. The campaign, shot by David Sims, was art directed by Olivier Van- Doorne and features New York Model Management's Wouter Peelen in a scenario that takes place among a prominent cityscape that aptly represents the environment of the Z Zegna man.
The Z Zegna fragrance is available in EDT 100ml for $110 and EDT 50ml for $80 at Myer and David Jones nationally.
The Z Zegna ancillary collection is now available at Myer and David Jones nationally:
Z Zegna Collection
Z Zegna After Shave Balm 100ml $79
Z Zegna After Shave Lotion Pour 100ml $79
Z Zegna Hair & Body Wash 200ml $44
Stockists: 1800 061 326