This Valentines Day, do you and your partner a favour by indulging in quality time of a seriously sexy nature. Bound to drive your senses wild, adultshop.com has something for every couple, and for those that have to spend Valentines Day away from their lover... theres even a treat for you!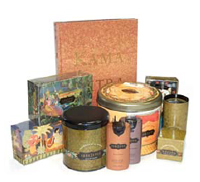 # 1 Kama Sutra Body Products
Including a silk-bound book, which is the perfect gift for couples who want to learn about the ancient art of love making, the range also includes sensual body dust, lotions, lubricants, pleasure balms and more. RRP from $29.95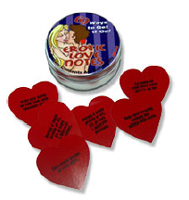 # 2 Erotic Love Notes
With a spicy suggestion on every heart-shaped card, youll never run out of sexy inspiration for keeping the lust alive! From playful to downright sizzling, each card is sure to inspire hours of erotic fun. RRP $20.95
*only available at the adultshop.com website (not at adultshop.com parties or stores)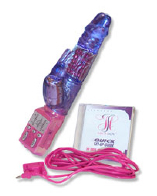 # 3 Internet Enabled Rabbit
If youre spending Valentines Day away from your lover, dont panic. This computer and Internet enabled Rabbit will allow you to overcome all geographical barriers by sending pleasure over the Net. With new and improved features, you can actually plug it into the computer and control the multiple speeds and functions over the Net! Talk about making a long distance relationship work! Software included. RRP $199.95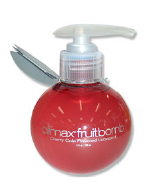 # 4 Climax Fruit Bombs
Lick your way to heaven with a burst of fruity flavour! The sweet, slippery, water-based lubricant is long-lasting, non-staining and condom-friendly. The stylish 118 ml (4OZ) pump bottle is great for one-handed application, and the five flavours (Cherry Cola, Blue Razzberry, Coco Pineapple, Kiwi Lime, and Orange Dreamsickle) actually taste good!
All products listed are available through adultshop.com retail stores (21 convenient locations), through adultshop.com parties, and online at
www.adultshop.com
.