77% of Unfaithful Recommend Affair to Friends
Majority of cheating men and women not planning to end affairs
82% of men and 72% of women would recommend having an affair to their friends
Women want to feel passion again, men are after better sex

Having an affair is highly recommended by people actively cheating on their significant other, according to a recent study conducted by Victoria Milan – a dating site for attached people looking to cheat.

12,290 male and female members of Victoria Milan contributed their deepest, darkest secrets to the study revealing their motives for having an affair, and how likely they are to end their adulterous adventures.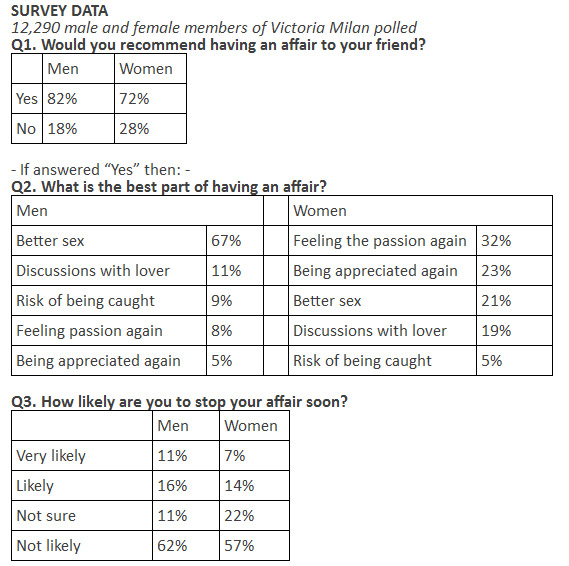 More than 70% of women would recommend having an affair to their friends, and in support of this finding, 57% say they aren't likely to stop seeing their lover any time soon. The majority of women (32%) said the best part of having an affair was feeling passion again, followed by having better sex and being appreciated again.

Over 80% of men advocate having an affair and more than 60% say they have no plans to end their devious dalliances. The motivation for having an affair is mainly physical; with 67% agreeing an affair equals better sex. Shockingly, men say the second best part of an affair is the discussions they have with their lovers, followed by the excitement and risk associated with getting caught.

Founder and CEO of Victoria Milan, Sigurd Vedal, said that while cheating men and women recommend having an affair, their motivations for doing so are different.

'Revealing that women rate passion over sex, and that men enjoy having discussions with their lovers show that affairs go beyond the physical. Our members tell us they are happier overall when having an affair – and this is why. It's not always just about great sex," Mr Vedal said.