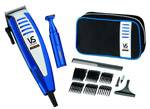 When it comes to Father's Day gifting, nothing beats this stylish limited edition clipper set! Handsomely presented in a windowed gift box (so there's no need to wrap!), not only does it look good but it will make him look good all while saving time and money. It really is a great idea for new Dads (just because they've had a baby doesn't mean they haven't still got it! Yes Orlando Bloom we are talking about you), older dads (Brad you've definitely still got it!), even granddads (Harrison Ford …) or just mere mortal Dads who need a spruce (and perhaps a hug!).

The NEW limited edition VS for Men Deluxe Clipper Set caters to all hair types, from the genetically blessed thicker headed hair types to the less-blessed! Comprising a premium mains powered clipper complete with high quality stainless steel blades, it is also includes an 8 comb guide (grades 1-8) and a five position taper lever, to ensure all desired cutting lengths can be achieved easily.

The limited edition VS for Men's Deluxe Clipper Set includes a battery-operate trimmer for precision cutting to maintain smaller, harder-to-reach areas like sideburns, necklines, facial hair and ear areas. It also comes with its very own matching blue storage bag, perfect for your initial Father's Day presentation and for subsequent storage when it's not being used.

The NEW VS for Men Deluxe Clipper Set limited edition comprises:
A mains operated clipper for continuous high powered performance styling!
High grade stainless steel blades for extreme precision and continual sharpness
5-position taper lever for fine cut adjustment.
8 clipper comb guides, grades 1-8, for a variety of cutting lengths.
Battery operated precision trimmer for tidying neckline, sideburns and facial hair.
Barber's comb and scissors, cleaning brush and lubricating oil plus a matching blue storage bag.

VS for Men Deluxe Clipper Set
RRP $39.95.
Stockists: 1800 650 263 Visit: www.vsformen.com.au
Facebook: www.facebook.com/VSSassoon