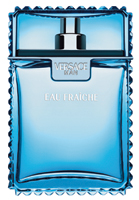 Versace Man, once again the strong and self-confident man, fond of luxury and very attentive to the directions of fashion, but this time in a decidedly more introspective, composed version. No more of the eccentricity and impudence of narcissism, but rather elegant understatement and a growingly alluring charm, no more in-your-face sensuality, but rather a willingly contained one.

For the man whose strength is his soul, who feels free and knows how to enjoy life bit by bit, Versace Man Eau Fraîche, a new harmony of scent where the most classic ingredients of men's scents are refreshed with unusual notes, giving life to a surprisingly fresh fragrance.

Starting with carambola, with a bubbly and nonconformist personality, which immediately makes a contrast with the tradition of white lemon and with the nobility of rose wood. Then the distinctive character of cedar leaves rises up, to highlight the vibrant notes of tarragon and the manliness of clary sage.

Precious understandings finally leave their stamp on an irresistible trail: sycamore wood, comforting amber and sparkling musk offering mysterious and skin-deep sensations.



VERSACE MAN EAU FRAÎCHE - THE RANGE
Eau de Toilette Natural Spray 50 ml, $75
Eau de Toilette Natural Spray 100 ml, $95
After Shave Balm 75 ml, $45
Deodorant Stick 75ml, $35
Perfumed Bath & Shower Gel 200 ml, $45



VERSACE MAN EAU FRAÎCHE - THE GIFT WITH PURCHASE
For a limited time at launch, an exceptional Versace luggage accessory will be offered with any fragrance purchase. Finished with Versace badges and trimming, the suede look overnight bag is a must have for the Versace Man. While stock lasts.

Versace Man Eau Fraîche will be available from Myer and David Jones department stores, selected pharmacies and retail specialists. For stockists call: (02) 9663 4277.