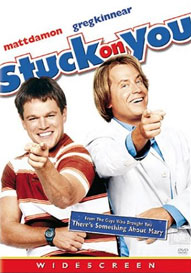 Starring:Matt Damon, Greg Kinnear and Cher
Directors: Bobby Farrelly, Peter Farrelly
Genre: Comedy
Rating: M15+
Running Time: 114 minutes

From the Directors of There's Something About Mary, Me Myself and Irene and Shallow Hal comes the hilarious Farrelly Brothers hit Stuck on You! Starring Oscar® Winner Matt Damon, Greg Kinnear and Cher, Stuck on You is one comedy that will have you laughing in again and again!

Matt Damon and Greg Kinnear make a terrific team, in this delightfully demented comedy about two brothers who share a passion for life - and a liver!

Thanks to great teamwork their physical condition is no handicap. But now the clash between Walt's big dreams of stardom and Bob's extreme shyness is tearing these conjoined twins apart. From the pursuit of acting roles to dating a pair of lovely ladies, they somehow keep getting in each other's way.

When the inseparable duo face outrageous obstacles in Hollywood and meet an incredible cast of characters (including Eva Mendes and Cher), the results are hilarious. So attach yourself to this Farrelly Brothers comedy: it will keep you doubled up with laughter.

The Farrelly Franchise has grossed over $1 billion dollars at the box office internationally. With a theatrical box office in Australia of $5.5 million- this is going to be one HUGE DVD HIT!

DVD Bonus Material:
Director Commentary from Bobby and Peter Farrelly
Deleted and Extended Scenes
Featurette: "It's Funny: The Farrelly Formula"
Featurette: "Stuck Together - Bringing Stuck on You to the Screen"
Featurette: "Making it Stick - The Make-Up and Effects of Stuck on You"
Blooper Reel

Review:
An unusual, but hilarious comedy with some amazing performances. If you feel the need for a good laugh, this is your film.