there are shoes, and then there are stilettos.
there's jewelry, and then there are diamonds.
there's dessert, and then there's chocolate.
there's fragrance, and now there's covet...
Introducing Covet Sarah Jessica Parker.


The addictive new fragrance that throws ration and reason out the window and crosses the line from innocent longing to an all-consuming (it must be mine! lock me up! i've got to have it!) cardinal-sin-quality desire. covet....it's that good!
impulsive, indulgent, irresistible....yes, yes, yes!
Covet is an ultra-feminine fragrance creation designed so beautifully- from its seductive blend of precious fragrance notes, to its bottle, a stunning jewel in itself. once you experience covet you'll be drawnto it over and over. A sensation, a seduction, an addiction. one hit and you're hooked!
Covet seduces you like that sexy sling-back that whispers, "just slip me on and sidestep the endless obsessing." the dazzling diamond ring in the window that winks at you, "you know you can't live without me." the fine chocolate that consumes you, "just how long do you think you can resist?"
Covet
Sarah Jessica Parker
I Had To Have It
Shot on location in Paris at the fashionable Place Vendôme by visionaryphotographer and director Jean-Paul Goude.
For the introduction of Covet, Goude goes wonderfully whimsical and captures Sarah Jessica Parker at her finest, funniest and most fabulous. dressed in a breathtaking Christian Lacroix Haute Couture gown exclusively chosen from his archive collection for the campaign, the ad follows sjp as she commits the ultimate caper...GRAND THEFT FRAGRANCE. Spotting the irresistible covet fragrance in a boutique window, she becomes possessed, smashes the window with her heel, snatches the gorgeous Covet bottle, turns to run, only to come face-to-face with the fragrance police. sjp is handcuffed and hauled away to perfume prison. Photographer and director: Jean-Paul Goude.
The Fragrance
A classic, feminine fougere-covet is a dose of pure self-indulgent luxury. a stunning blend of fresh green notes, gorgeous florals, and sensuous woods that instantly draws you in and won't let go.
Covet traps you in a hypnotic bouquet of crushed geranium leaves, fresh sicilian lemon, and french lavender laced with decadent chocolate, magnolia, and honeysuckle. sensuous musk, exotic woods, and smoldering amber leave an intoxicating afterglow.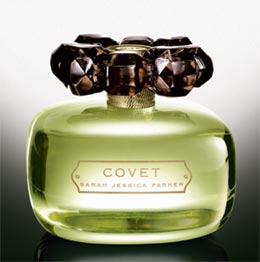 The Bottle
The covet bottle goes over the top with a flourish of exquisite jewels. Art object, accessory, jewel-bottle. dramatically weighted glass sculpted into a polished cabochon-like gemstone. the neck is wrapped in a stunning gold-cord choker. hovering like a bejeweled halo over the cap is a dazzling multifaceted ring in shades of smoky topaz that doubles as a fabulous accessory to wear as you wish.
Order Now from Perfume Connection