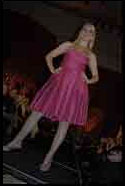 Sacred Heart Mission will be holding their annual fashion extravaganza - Style Mission 3 on Wednesday 27 July 2005 from 7.00pm - 10.30pm

The event will take place at the National Theatre St Kilda, Cnr Barkly and Carlisle Streets. Melways Ref: 2P C8

Tickets are $55, with all money going to the Sacred Heart Mission; helping Melbournes homeless and disadvantaged. Tickets will be available directly from The National Theatre (or call Sacred Heart Missions fundraising department on 9537 1166 for further information)

Style Mission 3 will feature op-shop garments, coordinated by leading fashion designers Jenny Bannister, Teena Varigos, Melissa Jackson, Dainy Stawaski (Body) and Pippa Joseph (Jaakan), with several more high-profile designers to be confirmed

Style Mission 3 will be hosted by Australian television and movie actor, Rhys Muldoon, and radio personality and 'The Panel' regular, Jo Stanley

The stage will see the glamorous Andi Lew, Cindy Sargon and Renee Henderson from Melbourne Women, along with the girls from the music group Slinkee Minx strut their stuff! They will be joined by GMAs Lauren Newton, Laurens boyfriend and Australian swimmer, Matt Welsh, Big Brothers Gemma Gawned and a handful of other celebrities on the catwalk.

St Kilda Football Players will also be on parade, including Xavier Clarke, Luke Ball, Nick Dal Santo, Leigh Montagna, Brendon Goddard, Justin Koschitzke, Luke Mullins and Matt Maguire.