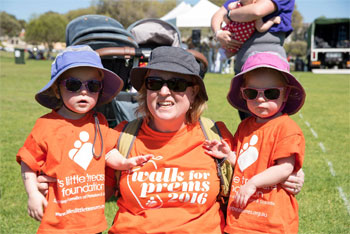 Walk for Prems 2017
On Sunday 29th October people across Australia will walk together in support of the 48,000 premature or sick babies born in Australia every year.

Walk for Prems 2017 is proudly presented by Baby Bunting and is the largest annual fundraiser by Life's Little Treasures Foundation, Australia's foremost charity dedicated to supporting the families of babies born sick or prior to 37 weeks gestation.

In its eighth year, Walk for Prems will take place simultaneously in Melbourne, Sydney, Brisbane, Adelaide, Hobart, Canberra and Perth – as well as regional locations such as Cairns, Townsville, Warragul and Ballarat.

In the past three years, Walk for Prems has raised over half a million dollars and this year Life's Little Treasures Foundation hopes to raise $250,000.

Life's Little Treasures Foundation understands that it is not possible for everyone to attend Walk for Prems 2017.

Those who live far away or whose baby is still in hospital are still able to take part in Walk for Prems by registering as a Virtual Walk for Prems Team member.

Locations
Walk for Prems 2017 will take place at the following eleven locations;
Adelaide; Karrawirra South Bank, (Near Jolley's Boathouse), Victoria Drive
Brisbane; Arthur Davis Park, Flinders Parade, Sandgate
Hobart; Montrose Foreshore, Brooker Highway, Glenorchy (TAS)
Canberra; Lake Tuggeranong, Tuggeranong Town Park, Bartlett Place, Greenway
Melbourne; Palms Lawn, Albert Park Lake, Albert Park
Sydney; The Village Green Area, Barwon Park Rd, St Peters
Perth; Sir James Mitchell Park, Zone 8, off Coode Street, South Perth Esplanade, South Perth Foreshore

Four Regional Towns
Cairns; Funship Parklands, Cairns Esplanade (FNQ) Townsville; Jezzine Barracks, North Brigadier Park, (on the corner of Mitchell and Howitt streets) (QLD)
Ballarat; Wendouree Parade, Lake Wendouree, Ballarat (VIC)
Warragul St Pauls Anglican Grammar School Gymnasium, 150 Bowen Street (VIC)

For more information and to register for Walk for Prems 2017 please visit www.walkforprems.org.au.