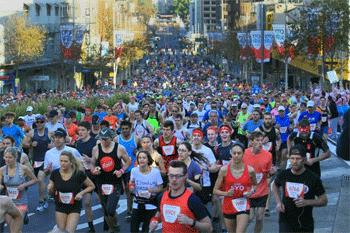 The Sun-Herald City2Surf
The Sun-Herald City2Surf is back, bigger and better than ever this year when it returns to Sydney on Sunday August 13, 2017.
The world's largest fun run will see over 80,000 participants weave their way through Sydney's CBD, heading east to finish at the iconic Bondi Beach.
The City2Surf will evolve into a weekend festival of fun and fitness, with Australian surfer and City2Surf event ambassador, launching a live work out of her new All Australian Beach Body for the very first time in Sydney on Saturday, August 12.
Registrations open on Wednesday, April 19. For information on the event and how to enter, please visit www.city2surf.com.au