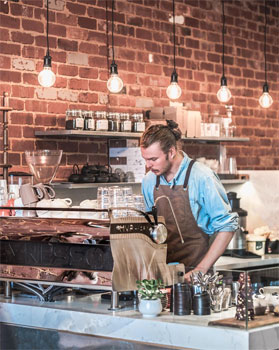 OnePlate Team Up
OnePlate is an Australian charity and social enterprise, that aims to help combat world hunger by enabling Australians to support sustainable food projects in the developing world when they eat out.

OnePlate's Vision: Every year, more than three million people die from hunger-related causes. Our vision is to see a world where no child dies of hunger.

OnePlate's Concept: OnePlate partners with restaurants, cafes, pubs and bars across Australia. Venues nominate a specific item on their menu to be their -OnePlate dish.' Each time that item is ordered, $1 is donated to fund sustainable food projects in developing countries.

In a recent survey, nearly 90% of consumers were more likely to choose businesses with social or environmental credentials. As hospitality businesses become more socially conscious, OnePlate offers the hospitality industry a ready-made way to show they care. Each restaurant will not only be helping to relieve hunger worldwide but in the process, will be stimulating conversations and social awareness around the issue of food security, for those who are most disadvantaged.

Who OnePlate helps: Funds raised goes to local foundations in developing countries to set up and run sustainable food projects. Rather than providing communities with on-going feeding programs, locals engage with the tools and training required to develop their own self-sustainable food production. Access to nutrition improves health, education and livelihood outcomes of the entire community. Our horticulture expert works with our partners on the ground, to ensure the projects are managed at a local level and are long-term to give people the skills they need to be self-sufficient.

The OnePlate Programs: OnePlate has already funded an urban rooftop garden at a foundation that cares for street children in Manila. The foundation's dedicated volunteers, look after 100 street children and provide a nourishing meal to a further 400 children every Saturday. As partners, we are now also developing an urban farm, located on the outskirts of the city, which will maintain a sustainable food supply to feed these children and teach them about nutrition and growing their own food. Future projects that will be powered by OnePlate meals include wall food gardens in slums; school gardens and lunch programs; agriculture workshops; goat, pig and chicken farms; seed banks; hydroponic cultivation; aquaculture and community cooking classes and programs to promote basic health and nutrition awareness.


OnePlate's Horticulture Expert: Dr Donald Van Cooten, CEO of World Relief Australia and CEO of Global Poverty Solutions, has partnered with OnePlate to advise us on long-term food production based on the latest developments in agricultural science. With more than 35 years of experience and a PhD in international development, Donald has used his expertise to find sustainable solutions to food poverty in developing countries.

The OnePlate Team: A team of dedicated and experienced professionals run OnePlate on a pro bono basis. They want funds raised to go towards projects not overheads. OnePlate wants to see Australia's food culture become one that awakens a new spirit of generosity and that changes lives of street children, one plate at a time.