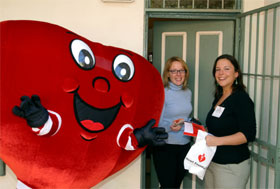 Most people think heart disease is just a man's problem but it is far and away the leading cause of death of Australian women. In fact, heart disease kills 32 Australian women every day, which is four times higher than the number of deaths caused by breast cancer.

To help save the hearts and lives of our mothers, sisters, wives and girlfriends, the National Heart Foundation of Australia urges you to support its annual Doorknock Appeal. Held from Saturday 3 September to Sunday 18 September, the Doorknock Appeal aims to raise $550,000 in Victoria to fund critical research and community projects to improve awareness, prevention and treatment of heart disease.

Robyn Charlwood, Heart Foundation Chief Executive Officer - Victorian Division said: "Heart disease remains the largest single cause of death in our community and currently claims an Australian life every 20 minutes. A survey we conducted earlier this year revealed the lack of understanding most women have about their most serious health threat as only 3% of people were aware that heart disease is the biggest killer of women. As heart disease is largely preventable, it's very important for women to be aware of the risks of heart disease and the steps they need to take to reduce their risks and look after their heart."

Ms Charlwood added: "As a charity, the Heart Foundation relies almost entirely on public donations and the support of the community to carry out our life-saving research, prevention and education programs. This year in Victoria alone, the Heart Foundation has funded almost $3 million for medical research undertaken at various local research centres."

All donations of $2 and more are tax-deductible and Heart Foundation volunteer doorknock collectors will issue supporters with a receipt. Ms Charlwood explained that official Heart Foundation collectors can be identified by the special badge they will be wearing.

"To recognise our collectors and open your doors with confidence, you can check that the collector is wearing a badge with the Heart Foundation's logo and the words Volunteer Collector Identification Badge. The badge also has the Heart Foundation's Australian Business Number and an expiry date of 20 September 2005. Collectors will also have an official receipt book and a small Heart Foundation bag," said Ms Charlwood.

If you're not home when the doorknock volunteers visit, you can make a credit card donation by calling the Heart Foundation Doorknock Hotline 1800 55 22 55.

Your generous donations support:

Research including improving the prevention, diagnosis and treatment of heart disease, for example:

investigating the effects of hormone therapy on certain aspects of heart disease, and

discovering how the local environment can influence physical activity levels in women.

Community education programs, such as the distribution of 30,000 Women and Heart Disease booklets to inform women about heart disease and what they can do to reduce their risk and live a healthier life.

Women to access a reliable and up-to-date information about how to take care of their heart either online at Heartsite www.heartfoundation.com.au or over the telephone at Heartline 1300 36 27 87.

The development of a comprehensive patient guide for all people who have been hospitalised from heart attack or disease.