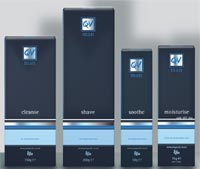 It's good to be a man with QV man

Today's Aussie male is a lot more sophisticated about his appearance than he's ever been, but when it comes to skincare, functional and easy to use products are still the preferred choice.

Skincare specialists, Ego Pharmaceuticals have launched QV man, a simple yet functional skincare range for men that includes a facial wash, shaving cream, aftershave balm and moisturiser with SPF 30+.

Appropriately titled; Cleanse, Shave, Soothe and Moisturise, the QV man range is exclusively available through Australian pharmacies and is designed to deliver gentle, effective and non-irritant skincare for men.

The QV man range is priced from $12.99 for the face cleanser (150g), $13.99 for the shaving cream (200g), $14.99 for the aftershave balm (50g) and $15.99 for the SPF 30+ moisturiser (75g). A starter pack is available featuring the entire range in 30g sizes for $19.99.

The range is available exclusively through pharmacies nationally.