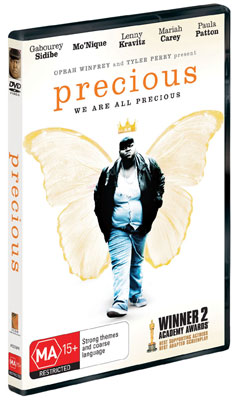 Precious
Cast: Gabourey Sidibe, Mo'Nique, Paula Patton, Mariah Carey, Lenny Kravitz
Director: Lee Daniels
Genre: Drama
Rated: MA15+
Running Time: 115 minutes

From producer Oprah Winfrey and director Lee Daniels comes the two time Academy Award winning inspirational film that proves we are all precious.

In Harlem, New York City, Precious- an overweight, illiterate teen pregnant with her second child- is invited to enroll in an alternative school with hopes that her life can head in a new direction. A victim of sexual, emotional and physical abuse all of her life, for the first time Precious is given an opportunity to shine and realise her dreams in this emotionally empowering drama. Starring an amazing cast including, Academy Award Winner Mo'Nique, Academy Award nominee Gabourey Sidibe, Mariah Carey and Lenny Kravitz.

Special Features:
A Precious ensemble
From Push to Precious
Oprah and Tyler: A project of passion
A conversion with Lee Daniels
Deleted scenes- the incest survivor meeting
Reflections on Precious
Gabourey Sidibe's screen test.

Review:
You could easily mistake this for a documentary, but this realistic look at American urban working class is fresh, emotional & completely honest.

Precious takes you on a journey like no other, and it's easy to see why this film won so many awards with it's clever portrayal of Clareece Precious Jones (Gabby Sidibe). Although you may feel like you have been on an emotional rollarcoaster as you experience raw & uplifting moments, make sure you have tissues handy before you start, for this must see film.

Precious
RRP: $39.95

www.wereallprecious.com


PRECIOUS is a vibrant, honest and resoundingly hopeful film about the human capacity to grow and overcome. Based on the novel Push by Sapphire and directed by Lee Daniels, PRECIOUS is set in 1987 Harlem and tells the story of Claireece Precious Jones (Gabourey Sidibe), an overweight, illiterate teen pregnant with her second child whose life takes a new direction when she is invited to enrol in an alternative school. Precious is the kind of story that is rarely told, about a character who society usually writes off, judges as a statistic, or simply ignores.

Critics and audiences have been equally enamoured of PRECIOUS, with the film already receiving several accolades including winner of the Grand Jury Prize (Dramatic) at the 2009 Sundance Film Festival, winner of the Audience Award at the 2009 Toronto International Film Festival and 3 Golden Globe® nominations for 2010 including Best Film, with MoNique winning in the Best Supporting Actress category. Precious also broke Box Office awards in the US on its opening weekend.

Executive produced by Oprah Winfrey and Tyler Perry, PRECIOUS stars Gabourey Sidibe, Lenny Kravitz, Mariah Carey, Paula Patton and MoNique.