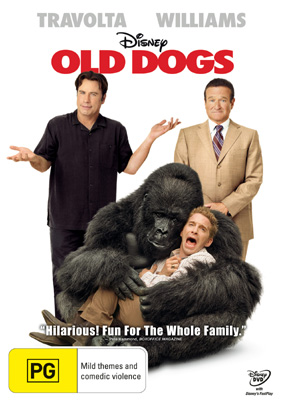 OLD DOGS LEARNING NEW TRICKS!

Starring: John Travolta, Robin Williams, Kelly Preston, Conner Rayburn, Ella Bleu Travolta, Lori Loughlin, Seth Green, Bernie Mac, Matt Dillon
Director: Walt Becker
Producers: Peter Abrams, Garrett Grant, Robert L. Levy, Andrew Panay
Genre: Movie - Comedy
Rated: PG
Running time: 85 Minutes

In a hilarious DVD release about two middle aged buddies trying to deal with the big changes in life, screen legends JOHN TRAVOLTA and ROBIN WILLIAMS team up for the first time in OLD DOGS, released to Disney DVD and in a Blu-ray™ /DVD Value pack.

Business partners Dan (ROBIN WILLIAMS) and Charlie (JOHN TRAVOLTA) are on the brink of a massive international business deal in Japan when Dan discovers that a short lived romance and marriage seven years ago resulted in the birth of twins Zach (CONNER RAYBURN) and Emily (ELLA BLEU TRAVOLTA)!

With the twins' mother Vicki (KELLY PRESTON) about to serve two weeks in jail for an activist crime, Dan hesitantly, but nobly, offers to look after the kids and turns to his best pal Charlie for the support he needs.

In no time tests of patience and endurance are placed on these OLD DOGS with a short-lived camping trip, including a riotous cameo by MATT DILLON as a camp instructor, which all ends in disaster. Soon after, a mad mix up of Dan and Charlie's medication results in Dan making a mess of a golf game with the Japanese, meanwhile Charlie's face freezes into a smile while attending the grandmother's funeral of new love interest Amanda (LORI LOUGHLIN)!

Just as the new and extended family begins to form strong ties, and Dan falls in love his new father role, the business arrangements with the Japanese become unstuck.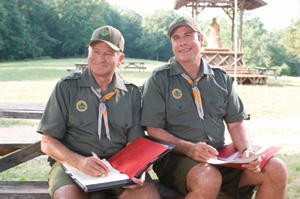 Forced to drop everything, Dan and Charlie fly to Japan to smooth things over, and in the midst of their first business meeting, Dan is overcome by remorse for leaving behind his new family. Boarding the next plane home, he turns his back on his old friend Charlie.

With his world now upside down, Dan arrives home to find his new family gone. Although it is clear to him that he needs family in his life, it is also true that Charlie is his family as well. So Dan sets out to make things right in a heart warming finale that shows OLD DOGS can learn new tricks.

Also starring SETH GREEN and packed with special features including bloopers and deleted scenes, don't miss the chance to bring your family together with OLD DOGS - available on DVD and in the Blu-ray/DVD Value Pack™*.

* Value pack contains a Blu-ray Disc plus a DVD copy of the film in a single package.

Review: With John Travolta and Robin Williams you would expect a great film and you won't be disappointed. For a great night in with light-hearted comedy, Old Dogs is one of the best films this year. See these legends as they let it all hang out and learn that you are never too old to enjoy family. With a great performance by John Travolta's daughter Ella Bleu Travola, this is a great home entertainment with plenty of laughs.

OLD DOGS
RRP: $29.99