Paula Walden collection:
Composing Space and Decadence & Youth.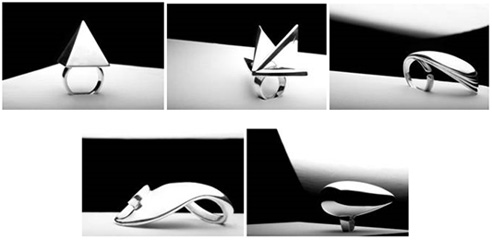 Composing Space


Challenging the boundaries between wearable art and everyday pieces, her designs present a unique twist on conventional costume jewellery.
This decadent collection of rings is dedicated to satisfying the contemporary cubists love of geometric shapes and minimalist chic. Basic 3D sculptures with spherical detail are placed atop bands of sterling silver, radiating an understated glamour thats perfect for any sophisticated style addict.

Decadence & Youth


This abstract collection displays a contrast between contemporary and vintage jewellery pieces. Eclectic diamonds form the shape of a flower on a sterling silver band, reflecting the epitome of chic. In contrast other features within the collection include a grand piano and a "haunted house" both bold and original ring design unlike anything out there. This collection is playful yet embodies high sophistication.
Available online at
www.paulawalden.com