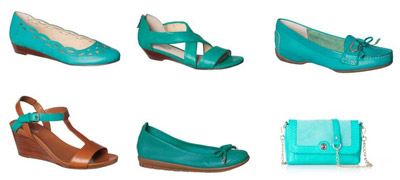 Emerald Diana Ferrari

diana ferrari has a range inspired by this sophisticated and luxurious shade of green.

The vivid, verdant green has always been associated with well-being, balance and harmony. And now, it's the go-to shade for high-end fashion designers around the globe.

diana ferrari Rookie Flats
Dip your feet into the world of colour and opt for emerald with these stunning flats. The cut-out detailing adds an extra hint of cool.
RRP $129.95

diana ferrari Daria Wedges
Emerald isn't just for dressing up an outfit. Dress it down with these tan and green wedges – a must-have shoe for Spring/Summer.
RRP $129.95

diana ferrari Beau Sandals
Evoking all things Summer – the Beau sandals look gorgeous with a flowing skirt or a pair of cropped jeans.
RRP $129.95

diana ferrari Flex Flats
The Flex flats are super comfortable for those long days on your feet, and make the perfect casual shoe.
RRP $109.95

diana ferrari Penny Flats
Let your shoes do the talking " show off your bright side with a pair of Penny flats.
RRP $129.95

diana ferrari Cronyn Bag
The Cronyn bag is the ultimate addition to your outfit. This vibrant colour is sure to turn heads and will add some glam to your look. Wear it with a white maxi for beach chic perfection.
RRP $79.95

diana ferrari Webb Tote
This tote bag is the perfect size to carry all your essentials and the luminous green will keep you on-trend!
RRP $89.95
www.dianaferrari.com.au
For stockists details: 1800 101 285