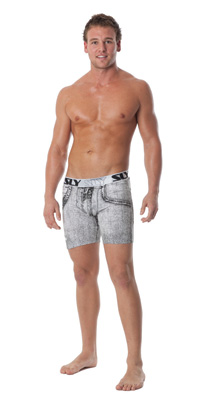 Sly Underwear
If you think jocks and socks are the very safe but 'oh so very boring' Christmas gift for the man in your life, think again! That's all about to change with the launch of the cutting edge Sly Underwear range.

Men across Australia will be hoping Santa's heard about the inspired designs coming out of the Gold Coast where 20-year-old entrepreneur, Dan Murray has based his company.

"Sly Underwear is the alternative for those wanting to look and feel good from the bottom up, without having to spend excessively to do so," said Dan, who was a finalist in Triple J's Catapult competition for young entrepreneurs in 2009.
"There's nothing cheap about our product but it's emphatically affordable and designed to cater for people who enjoy a similar lifestyle to the team behind the Sly brand - a lifestyle epitomised by hard working, party loving people who also appreciate resting and recovering in comfort."

The intricate and edgy 34-piece range is strongly influenced by tattoo art and uses the latest in discharge, screen and photo printing on premium quality cotton elastane to deliver designer quality product without the price tag.
So, wondering what to stuff in your man's Christmas Stocking? Look no further… think outside the jocks. Sly Underwear.

Sly Underwear is available in three purpose-built categories
Workhard: Working at the office, the job site, at uni, school or the gym, our boxer brief is designed to accompany the working section of your day. Engineered trunk bands to prevent riding, a stylish waistband and impeccably blended fabric all aid in achieving a supremely comfortable and practical garment.

Playharder: Work is over for the day, it's time to play! The long-leg boxer brief was inspired by and designed for the wild side of your personality! Bold artwork, a handy fire exit and a cheeky pocket to equip the modern gentleman in any situation, all combine to form the ultimate party pants.

Resteasy: Our relaxed boxer is designed for rest and recuperation, so comfort was imperatively kept in mind throughout the design process. With generous gather around the waistband and trunks, embossed buttoned fly and highly breathable fabric, this garment is specifically designed for rest.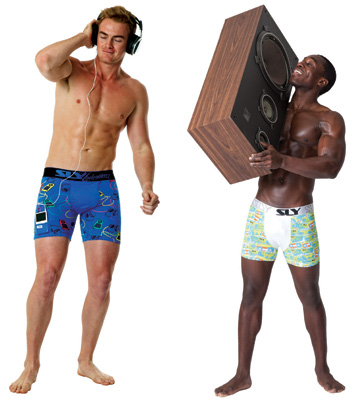 Sly Underwear - the Story
The bold, edgy designs of Sly Underwear's products are rooted in the origins of the company itself. Six months out of high school and putting in fifty hour weeks as a labourer, Dan Murray was offered a chance to enter the world of men's underwear design.

Never one to turn down a challenge, he leapt at the chance… a gutsy decision that's paying off in a big way as three years later Sly Underwear has carved a niche for itself in the lucrative, yet highly competitive male underwear market. Dan started selling his creations from the back of his van at parties and music festivals at the age of 18. The business grew quickly on the back of hard work and a word-of-mouth buzz, and when Sly Underwear received national exposure as a finalist in youth radio network, Triple J's Catapult competition for young entrepreneurs, it was time to park the van.

The buzz surrounding the exciting new brand caught the attention of American businessman, Jalil Keval, who contacted Dan and expressed an interest in the business. Four days later, Dan was on his way to New York where his new mentor introduced him to industry titans at events like the Majic Trade Show in Las Vegas. Dan realized Sly was perfectly poised to offer a real alternative to the slick but impersonal corporate labels - it was time to share the Sly secret with men across Australia.

Armed with a big vision for the future of Sly Underwear, Dan recruited the help of two friends, Jake Alberts and Josh Smith, to help him bring his ideas to life. Over the past six months a fresh 34-piece range strongly influenced by tattoo art has emerged with the support of a quickly expanding and dynamic team.

Sly Underwear is at the forefront of a wave of change in the underwear market that industry observers liken to the seismic shift taking place in the Australian surf-wear scene, as Steve Barrett, former brand manager of surf-wear giant Cult notes:
"The unmistakeable shift in power seen in the [Australian] surf-wear industry over the past five years is having a clear ripple effect onto other forms of apparel," Barrett explains.
"Gone are the days of total corporate domination the market place. Consumers are looking more and more to the smaller, less branded labels with a transparent and open structure. Sly displays all the characteristics to be the catalyst for a similar change in the underwear market."

Now… not content with slyly edging their way into the $4 billion global market, Sly Underwear is about to take the underwear industry head-on at home and abroad.

For further media information, please contact Maya from Fresh PR onSly Underwear retails from $19.95 and is available at www.slyunderwear.com.au