Morning After Cool Pack
The OUCH! Morning After Cool Pack, a comforting bean bag for the eyes, is the emergency hangover cure we all need for the morning after the night before! The soothing eye pillow contains plastic beads that stay cool, soothing tired eyes and headaches.
To use:
· Put the inner bean bag in the freezer the night before, or at least one hour before use.
· Remove when ready and place back inside the red OUCH! towelling bag.
· Place over the eyes for 20 minutes, relax and remove for 10 minutes.
· Repeat as desired.
· The towelling bag is machine washable.
Review: Clever, handy pack to have around, also good for inflations, and sore eyes from allergies & viruses.
Morning After Cool Pack, RRP $24.95
www.kitcosmetics.com
---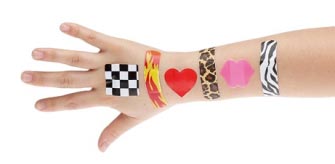 Deluxe First Aid Plasters
The perfect stocking filler or kris kringle gift the limited edition Ouch! Deluxe First Aid Plasters contain an assortment of 15 happy healing bandages in a re-usable tin.
The plasters come in 6 different quirky designs;
Pit Stop - the faster plaster
You're Fired - Blazes for grazes
Love Hurts - Tender loving care
Wounded in Action - for army and leggy injuries
Lip Service - kiss it better
Witch Doctor - jungle remedies
Deluxe First Aid Plasters, RRP $13.95
www.kitcosmetics.com