Music for your senses
Discover the essence of summer days past. Indulge in nostalgia and journey down memory lane catching glimpses of a bygone era when glamour took centre stage and every occasion was special.
Take the time to enjoy the daydream with a scent reminiscent of times past, but bursting with a fresh, modern twist.
Viola, be carried away
Viola, the beautiful new female fragrance from Nutrimetics captures the trend of nostalgic glamour with glimpses of Violet Leaf and May Rose and keeps it fresh and modern with infusions of Cypress and Blackcurrant.
Viola is based on a classic pyramid fragrance structure, developing top, middle and base notes after time, with warming on the skin.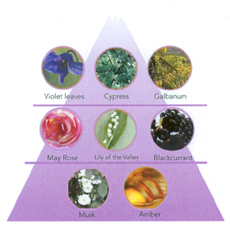 Top Notes

First impressions lasting up to two hours - Violet Leaves, Cypress & Galbanum
Middle Notes

Evolving scents which develop over time, lasting two to six hours - May Rose, Lily of the Valley & Blackcurrant
Base Notes

Underlying notes which gradually develop over six hours - Musk & Amber
RRP $65. Available through Nutrimetics call 1800 802 151.
www.nutrimetics.com
Order Now from Perfume Connection