Modnique.com - Leading US Private Sale Site may be Australian Customers Best Kept Secret
What is Modnique? Modnique.com is a leading US private sale site and the only one that ships to customers in Australia.
Since February 2010, they've been bringing shoppers exclusive access to authentic designer fashions with unbelievable savings - sometimes as much as 85% off prices you would find in stores. With in-depth descriptions, high resolution photos, and 24/7 customer service team - you can expect only the highest quality of items to arrive from Modnique. Plus,
with $4.99 shipping and no sales tax
- why spend the gas money when you can get even better deals delivered directly to your doorstep?
One ongoing (and often annoying) tendency you may have noticed among flash sale sites are the upfront fees you're forced to pay to become a member or take advantage of VIP privileges. This is where Modnique outshines competitors; rather than you pay them, they pay you!
You'll get $5 credit just for becoming a member
. On top of that, you can earn extra credits when you refer friends and they make a purchase.
Returns? With a 30 day, cash back return policy (from the date your order is shipped), you've just jumped over the biggest hurdle when it comes to ordering online.
In addition to top-of-the-line apparel, lucky shoppers can find a wide range of novelty items at Modnique.com: eco-friendly apparel to couture handbags, fine jewelry to adorable accessories for your pet. No matter whom you are shopping for-your favorite niece, your boyfriend, or yourself-Modnique has something for everyone.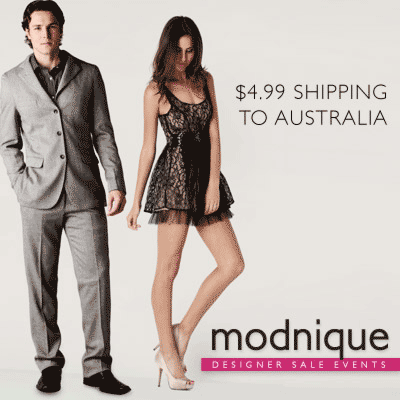 Modnique's web presence expands beyond their online boutique. The online retailer has daily stylist picks for almost every sale event; it's a quick guide on how to put together an entire look easily and affordably. The editorial is also a great source of fashion news that is updated daily with articles and interviews from models, artists, and up-and-coming fashion bloggers.
Sign up for Modnique's daily newsletters and take advantage of early access to sales before non-members. Who doesn't want to be first in line at their favorite sample sale? You'll have first dibs on the items you want.
Modnique provides the ultimate shopping experience: categories that are easy to navigate, in-depth descriptions, enhanced photography, 24/7 customer service, and a checkout process so streamlined you could almost do it with your eyes closed. Almost.
As if you needed another reason to get on board with Modnique - they have awesome giveaways each month! Past winners have received an iPad2, Marc Jacobs handbag, Balenciaga clutch, and a trip to Disneyland - to name a few. They also offer weekly giveaways on upcoming sale events; if you don't win, you can purchase the same item on sale at Modnique. It's win-win!
Based in Los Angeles, the people behind the scene at Modnique make a conscious effort to stay involved in their community and give back where they can. This past month, Much Love Animal Rescue (a non-profit that rescues animals from being euthanized) and Modnique partnered on an adoption charity event. Celebrity guests Jason Lewis, Mike Catherwood, Lacey Schwimer (and more) came out to show their support and spend a sunny afternoon playing with pups for a good cause. A handful of dogs found new homes which made the entire event a success.

Luxury and designer brands are no longer just for the rich and famous. Start your day with a fresh hit of style and stay in-the-know on the latest steals and deals with
Modnique.com (Australia's best kept secret).
Register here now.