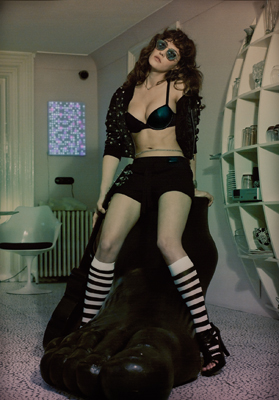 Leather Enters the Bedroom of Everyday Women
Leather has always been a popular staple in any ladies winter wardrobe for clothing and shoes; however it has now gone to a whole new level in the form of sexy lingerie.

The world's leading lingerie designers including, Marlies Dekkers and Obey By Demand have both incorporated leather into their designs, as well as French designer, Yves Saint Laurent who had models strut the runway in leather corsetry in 2010. With lingerie as outerwear now a major fashion trend for celebrities including; Lady Gaga, Rhianna, Madonna and Britney Spears, it wasn't going to take long to find its way into the bedrooms of everyday women wanting that sexier edge.

Actress, Ginnifer Goodwin from Big Love is hooked on leather lingerie after her co-star, Chloe Sevigny gave her some black leather lingerie as a gift. Ginnifer said: "Chloë gave me some pretty sexy black leather lingerie, and I trust anything she says, especially when it comes to fashion. Girls know how to make their girlfriends feel sexy."

Australia's authority on lingerie, Eloise Monaghan who is founder of Australia's sexiest lingerie boutique, Honey Birdette says: "ladies from all backgrounds are snapping up lingerie made from leather or with leather accents. For corporate women, it makes them feel more powerful wearing leather lingerie under their suits, while other women simply feel sexier wearing leather designs as it's viewed as a little more naughty and risque."

Eloise goes on to say "Gone are the days when leather was typically thought of as a fetish fabric and not usually seen as something chic or sophisticated. The versatile thing about leather lingerie is that it can be great for layering with outwear aswell."

Leather lingerie is the new 80's power suit for women who actually walk and feel different wearing leather. It's a feeling of empowerment and a change from the usual lingerie options." Eloise concludes.

Australia's naughtiest store, Honey Birdette has a stylish range of leather pieces available and have hand selected the most premium and provocative lingerie and accessories from the world's most glamorous places for ladies after something a little more sinister, yet sophisticated. Whether it's a pearl thong, silk kimono, French lace quarter cup bra, tie-ups, peek-a-book knickers, nipple tassles, satin bustiers, riding crops or intimate accessories, Honey Birdette has something for every mood.