DVDs & Video Releases by Buena Vista Home Entertainment

Bruce Almighty, He's got the power!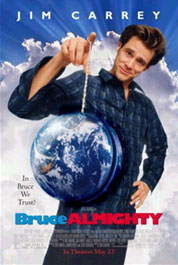 BRUCE ALMIGHTY is the #1 Comedy about a man who goes looking for God... and finds himself It's fun to have God's powers…and if you don't believe it just ask Bruce Nolan (Jim Carrey), because he should know!

Loved by girlfriend Grace (Jennifer Aniston) despite his constant negativity, Bruce is a local TV reporter best known for his humorous, homespun, human interest stories that make everyone happy - except himself!

After the worst day of his life, which includes losing his job, Bruce rants and rages against the Lord for his rotten luck. Bruce's wrath is so much so that he is summoned to a nondescript old building to meet an equally nondescript old man who reveals himself to be God (Morgan Freeman).

When God imparts his powers to Bruce and challenges him to do better, a hilarious journey of self-advancement, advantage and amusement follows until Bruce is at the most important crossroads in his life - will he become the biggest jerk in the universe or will he find a little humanity?

BRUCE ALMIGHTY, released by Buena Vista Home Entertainment, is now available for you to own on DVD or Video. Definitely one of Jim Carrey best.

Rated: M15+
Running time: 101 Minutes

Also Bruce almighty article located here.






Take a Sweet Trip Home with Sweet Home Alabama!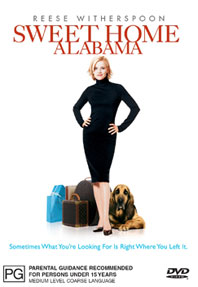 Take a sweet trip home with the delightful romantic comedy SWEET HOME ALABAMA starring the much-adored Reese Witherspoon.

You will fall in love with America's sweetheart, Golden Globe nominee Reese Witherspoon, as she delivers a heart-warming and memorable performance in SWEET HOME ALABAMA. Playing the chic, sophisticated blonde, New York fashion designer Melanie Carmichael (Witherspoon) suddenly finds herself with more than she bargained for - engaged to the city's most eligible bachelor yet still married to her once high school sweetheart!

A time that is usually welcomed as most brides-to-be's sweetest moments soon becomes Melanie's nightmare. This is no fairy tale romance for Melanie, as she must face her secret past that she wishes could stay buried. She has to sneak back to her hometown Alabama to end her marriage to Jake (JOSH LUCAS), the red neck husband she married in high school, who refuses to divorce her.

Melanie, determined to end their troublesome relationship and sever all ties, soon comes to realise you can take the girl out of the South, but you can't take the South out of the girl!

You will grow to adore REESE and the rest of the cast including PATRICK DEMPSEY as Andrew, the idyllic fiancée and CANDICE BERGEN as New York's Lord Mayor and Andrew's Mother. Your heartstrings will be pulled in this timeless story about finding true love!

SWEET HOME ALABAMA, features a hot soundtrack including songs from Jewel, Avril Lavigne and Sheryl Crow. Out now on DVD & Video.