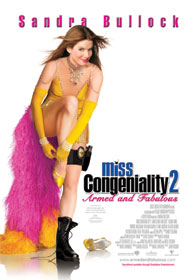 Cast: Sandra Bullock, Regina King, Heather Burns, William Shatner, Enrique Murciano, Ernie Hudson, Diedrich Bader, Treat Williams.
Director: John Pasquin
Genre: Comedy
Rated: M Low Level Violence
Running Time: 115 minutes

Sandra Bullock returns as Special Agent Gracie Hart in a funny, fabulous 'Miss Congeniality' follow up. This time, she's the bureau's new celebrity face, making the rounds of talk shows (her heroics at the Miss United States Beauty Pageant made her to famous for field work). She also has a new partner (Regina King, an agent with anger management issues and dim opinion of pampered Gracie. But when Gracie's friends (returning stars Heather Burns and William Shatner) are kidnapped, nothing can keep Special Agent GS 13 out of the action. Look out world. The cover girl is going back undercover.

Special Features:
Additional Scenes
Theatrical Trailer

RRP: $44.95

Review:
Recently dumped Gracie Hart has cleaned up her act to become the new face of the FIB, snorts and all. But don't be fooled by the exterior, she's no one's push over and neither is her new partner.