Michael Brown CoolSculpting Interview
CoolSculpting is a non-invasive fat reduction treatment that uses innovative cooling technology to freeze and eliminate up to 25 per cent of fat cells. Michael can also speak to the treatment and how it can help boost body confidence this Summer.



Interview with Michael Brown, CoolSculpting Beauty Ambassador and Celebrity Makeup Artist
Question: What are your top three confident boosters?

Michael Brown:

Well hydrated skin
In summer our face can get dry because of being outdoors, air conditioning and using more sunscreen type products. Keep up your hydration with a lightweight moisturiser that actually reduces shine as your skin will not think its dry and produce excess oils.

A healthy body glow
We all know a tan can help the look of a toned body, but gone are the days of the old school matte dark tan. Oil based tan products and gradual tans (like St Tropez) are the way to glow. It gives lots of moisture and sheen so you appear with a healthy glow without the change of skin colour.

Feeling body beautiful
We all come in different shapes and sizes and a lot of us are happy with what we have. I know that I love feeling fit and healthy, so going for a run and the odd push up and sit up session is my go-to! But, as I am in my mid 30's my CoolSculpting session gave me a boost of confidence for my stubborn fat areas and with a little exercise, I'm ready to take on summer!


Question: How can we prepare our skin for summer?

Michael Brown: It really is all about moisture levels in our skin…
It is best for most of us to use lightweight, water-based moisture during the day. These can plump the surface of the skin quickly, so that foundation will sit well all day. Keep richer creams for night when they have longer to penetrate deeper into the skin.

I also love using an illuminator product, something in a liquid/cream form that is pearlescent, not necessarily shimmery, under foundation. This creates glow for a realistic skin finish when wearing makeup.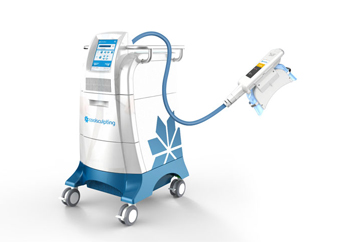 Question: How can we prepare to look our best at the upcoming Christmas parties?

Michael Brown: We tend to love a bit of shimmer and glow for a festive beauty look, so my tip is make sure to have balance on the face - too much shimmer and glow all over the face is recipe for looking sweaty in the more balmy nights ahead.

Use a mattifying primer in the T-Zone (middle of forehead, nose, center of cheeks and chin) under foundation, to create balance, as we want the outer areas of the face, like the cheekbones to have glow. If you have a shimmery eye look, go a matte lip and if you have a glossy lip, go a matte eye –it's all about balance.


Question: And, how should we prepare for the beach?

Michael Brown: Everyone has different confidence levels, but keeping active will enhance your summer body. I like to prepare my face and body with lots of moisture as swimming in both the beach or pools, can dry out our skin. Not forgetting to layer sunscreen is also key for not getting burnt when in the sun for long periods - my choice is a spray sunscreen as they are fast drying and non-oily.


Question: What are the best beach looks this summer?

Michael Brown: Glowing bodies, nothing matte as it can make our skin look dry and un-healthy. Sea Salt hair is always a winner and if you aren't a beach girl, sea salt texture sprays are great before applying a beach wave, or when drying hair naturally for great texture. Everything rose gold – it's the colour for summer. Lips, nails, eye shadow, suits every skin tone and eye colour, looks fresh and is uplifting, more so than traditional bronze tones.


Question: What will we see as the 2017 makeup trends?

Michael Brown: The lived in makeup trend is still a hit. This means makeup is applied with fingertips, very blended, nothing so placed. Washes of colour on eyelids - cream sticks are great for this and lived in lip shades- think of a great lip stain. We see richer shades for eyes in terracotta, rose golds and even orange. Then for lips - the sheen lip is back, giving plumpness to the lip.

Picking your pop points is a big part of makeup. Play up brow and lips with nude eyes or add more drama to the eyes with super fresh light lips.


Question: Can you share your how to tips on looking and feeling your best at the beach?

Michael Brown: Drink plenty of water, it's so easy to dehydrate when in the sun.
Make sure you have appropriate SPF for how long you are in the sun for. Re-applying is key when swimming and after showering- always apply moisture as the sun can draw out much needed hydration from your body.
Gradual tan tinted products are a great way to boost your tan. It adds moisture and glow which helps keep your tan alive, longer.
Know your angles for beach selfies! Slightly twisting the body, rather than facing the camera front on is a great way to looking trim.

Skin illuminators can create great light reflect when in the sun, you may not wear makeup to the beach for obvious reasons, but everyone deserves some good highlight - non oily formulas are best, like light liquids, these usually hydrate the skin too.


Question: What is CoolSculpting?

Michael Brown: CoolSculpting is designed to break down pockets of stubborn fat, not necessarily weight loss as such, but those areas that even if we are working out regularly, they just don't seem to budge.

For our face, we use shade tones to contour our face shape to re-structure, CoolSculpting is ultimately sculpting for the body but on a more permanent scale. Areas like the muffin top, lower stomach, inner thighs, the 'chicken wing' arms are all great areas to sculpt with the treatment, especially when mixed with a good exercise regime.


Question: How does CoolSculpting work?

Michael Brown: CoolSculpting is a machine that has a vacuum like head, which comes in different sizes to fit the appropriate areas of stubborn fat. The head fits onto the area of concern and the skin gets sucked in place, ready to be freezed at -10 degrees. This process takes 60mins and this puts the stubborn fat cells into shock. When in shock, they slowly die off and your body naturally excretes these cells over the next few weeks. As fat cells cannot reproduce, the results are amazing and permanent. The larger the area, the more sessions you may need, but results are great because they are non-invasive and can be seen in 6-8 weeks.


Interview by Brooke Hunter