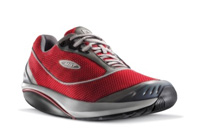 MBT Footwear
Follow in the footsteps of Hollywood A-listers this Christmas, and head out to buy yourself or a loved one a pair of MBTs, this season's hottest fitness accessory. By wearing MBTs, you can tone and strengthen your body, even when you are standing still. Step into a stronger body this Christmas with MBT.

Created by Swiss engineer Karl Müller, MBT footwear has a unique curved sole technology that enables the body to walk naturally, and allows you to benefit from all the positive effects of natural instability even on hard, flat surfaces. MBTs are creators of the first physiological footwear - footwear that has a positive effect on the whole body.

Wearing MBTs significantly improves your posture, relieves stress on your joints and back, and increases muscle activity, even when you are standing still. This, in turn, stimulates your metabolism, burns extra calories and supports muscle regeneration.

MBTs are 'Pilates for your feet' and will activate neglected muscle groups in your body, helping to tone and shape while you walk.

MBT or Masai Barefoot Technology made its first appearance on the footwear market in 1996. Development of the unique sole construction, which is patented worldwide, has continued since then with great success in more than twenty countries.

This Christmas give your friends and family the gift that will have a positive effect on their whole body for years to come, MBT footwear.