After a successful launch at RAFW the gorgeous spring summer collection from amar hits stores this week.
Dannii Minogue chose to wear amar and looked stunning wearing our silk bamboo aqua dress - you have to agree it brings out the blue in her eyes. Having now dressed both Dannii & Kylie, amar is well on its way to becoming a favourite of the minogue sisters.
The gorgeous Sara Groen from Channel 7 closed our RAFW show wearing our silk tiered maxi dress. You can see Sara regularly wearing amar on channel 7 Sydney news
Carson Kressley style guru chose amar for his Big Brother housemate make-over - heavens knows we think some of them needed it! Fortunately (or unfortunately) it was not enough to bring back Big Brother next year.
Catch Shelley Craft regularly wearing amar on Australias Funniest Home Videos.
With over 30 styles including dresses that transcend both day and night in blends of silk, silk cotton and silk bamboo; blouses that can be worn with our tailored silk pants and shorts along with a tailored jacket can look as good in the office or on the street.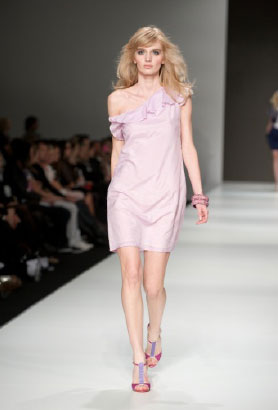 The amar woman will stand out this season with a colour palette ranging from lilac and red, the ever so summer white, as well as navy, grey and black.
With a focus on hand stitching including our almost 3-dimensional hand pin-tucking, Summer 0809 is certain to be a season of wistful beauty for the amar woman.
The ana and leela collection highlights key trends for spring summer, including the popular one-shouldered dress, tiers and delicate frills.
For a full list of stockists please visit the stockist page on our website www.amar.com.au.