MANICARE LAUNCHES NINE INNOVATIVE NEW BEAUTY TOOLS!
Manicare continues to lead the way in beauty trends with the launch of nine new innovative products. Spanning a variety of categories, each beauty tool will offer a new solution for all grooming needs. Be inspired, be amazed, be beautiful with Manicare. Your trusted beauty tools.

Manicare Automatic Tweezers


The Automatic tweezer system gently and effectively removes stray hairs using a spring operated mechanism. The ultra-fine slant tips are ideal for accurate and all purpose eyebrow tweezing. Just squeeze and tweeze!
RRP $14.95

Manicare IlluminatingTweezers


Finest quality stainless steel tweezers, fitted with an LED light and rubber grips, making tweezing and maintenance of eyebrows easier and more accurate. The light illuminates fine, hard to reach hairs, ensuring a flawless finish. Includes a stylish storage pouch.
RRP $10.95

Manicare Soft Touch Tweezers


Precision slant tip tweezers with a soft touch grip surface ensuring greater performance and control. The comfortable grip makes tweezing easy and accurate for perfect results.
RRP $10.95

Manicare Jewel Tweezers


Stylish, stainless steel tweezers with a gorgeous jewel adding a touch of glamour to your everyday beauty tool. The ultra fine slant tips are ideal for accurate and easy eyebrow tweezing.
RRP $12.95

Manicare Eco Nail Shapers Pk 2


Treat your nails with these environmentally friendly nail shapers. Made from 100% recyclable material, each nail file has medium and fine filing grades to ensure the smoothest result for every manicure.
RRP $5.95

Manicare Nail Enamel Corrector Pen


Correct nail polish mistakes quickly and accurately with the Nail Enamel Corrector Pen. The unique no-mess, no-spill pen applicator removes smudges and excess nail polish around nail edges, without ruining the freshly painted nail colour. Suitable for use on natural & artificial nails. Includes three bonus replacement tips.
RRP $12.95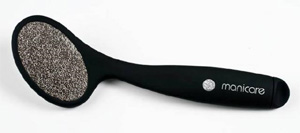 Manicare Nickel Foot File


Designed with a unique nickel surface to smooth calluses quickly and easily. The ergonomic, soft touch handle makes it easy to hold and comfortable to use. Two different filing plate surfaces guarantee durability and ensures the best results time after time. Look out for the hidden nail file at the end of the handle for the perfect pedicure finish!
RRP $14.95

Manicare Foldable Toothbrush


Made from anti-bacterial plastic, the unique Foldable Toothbrush is the ultimate travel companion. The vented plastic handle helps keep the medium bristles clean and sanitized whilst folded and is compact enough to fit into any sized travel bag.
RRP $3.95
Manicare Toothbrush Covers Pk 3


Antibacterial toothbrush caps that turn your regular toothbrushes into travel-safe toothbrushes. The compact cover fastens neatly around the vital bristle area, protecting against germs and bacteria. Easy to clean, lightweight and fits all toothbrushes. The vertically mounted position also allows moisture to drip away. Includes removable suction caps. Available in blue, white and mint green.
RRP $4.95
Manicare is available nationally from Myer, Priceline, Kmart, Target, Big W & leading Pharmacies.
Stockist number: 1800 651 146