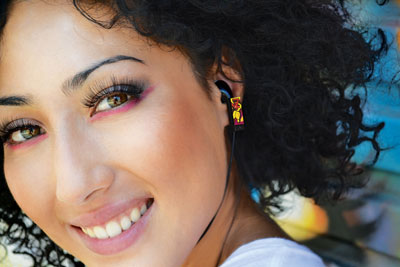 Make Music on the Move More Stylish with DeSound
Now there's a way to turn earphones into fashionable works of art with DeSound's designer earphones that feature interchangeable art panels. Making music on the move more stylish, mix and match the look of DeSound's earphones to suit any mood and fashion statement.
The unique earphones also boast premium sound quality and lightweight design, and come in a convenient case that is an ideal size for transporting the headphones, art panels and other accessories. Changing panel art is as easy as sliding the current panel off and the new panel on. The earphones contain a universal plug to enable use with electronic devices such as the iPod and iPhone, mp3 players and laptops.
DeSound is the brainchild of Alan Lavocah, a Sydney-based graphic and fashion designer. "I set out to fuse fashion with music and sound to create earphones to match individuality," Alan said.
"Style conscious youth like to individualise everything from their mobile phones to social networking profile pages and, with music and style tastes changing so often, I thought it only natural to offer earphones that they can also use to reflect their shifting moods and style - or even the music they're listening to."
DeSound earphones and art panels are available online at
www.desound.com.au
. The earphones are currently priced at $19.95 and include the generic art panel set plus a free second set of interchangeable art panels. Additional art panels are $2.95. Delivery within Australia is $4.60. Stay in tune with the latest DeSound of Fashion happenings and follow the Facebook page:
www.facebook.com/desoundoffashion
The Specs
Frequency response: 20Hz-20KHz
Impedance: 32 Ohms
Sensitivity: 103dB
Maximum Power Input: 10mW