Leanne Loombe Need for Speed Most Wanted Interview
Race, chase and explore your way to become the Most Wanted. Criterion Games is reimagining the Need for Speed franchise's fan favourite and bestselling game, Need for Speed™ Most Wanted. Designed for a new, more connected generation of racing fans, Need for Speed Most Wanted offers players an expansive open world packed with exhilarating action where they can choose their own path to become the Most Wanted. Players will have the freedom to drive anywhere, discover hidden gameplay, take down rivals, challenge friends or just hang out and toy with the cops. Everything they do counts towards the end goal of becoming the #1 on their personal Most Wanted list.
Key Features
Race without Rules. The only rule in Most Wanted is to race without rules. There's a start and a finish to every race - but how the player races, where and when they choose to compete, and the skills they choose to compete with - are all up to the player.
Freedom in an Open World. From the moment the game starts, the entire world is open and ready to explore as gamers race to become the Most Wanted. The exciting open world gives players the freedom to explore more than just the road - drive above street level and jump in, out or over other building and objects. The world opens up and challenges players to test their racing skills, awareness of the terrain, knowledge of the world and mastery of weapons to take down their rivals.
Epic Cop Chases at the Heart of the Competition. As soon as a player is spotted speeding, crashing or driving dangerously anywhere in Fairhaven City, cops are alerted and the heat is on! Heat on the player will increase the longer a chase continues, escalating faster if the player disables or destroys police vehicles.
Play with Friends Like Never Before. With Autolog 2, the next evolution of the ground-breaking, friend-connecting technology, friends are integrated more deeply into the world than ever before. Everything the player does earns Speed Points and is compared against their friends, taking them up the Most Wanted list - from competing for best race times, racing for the highest scores in a pursuit, to making the biggest jumps, driving the most cars and more - if there's something to do, there's someone to beat.
Competition Anytime, Anywhere. CloudCompete extends the game beyond the console. It is a cloud-based scoring system that tracks Speed Points and game accomplishments across multiple platforms. Compete against your friends and rack up Speed Points on console. Then add extra points when you play the game on iOS, Android on PS Vita. Log on to needforspeed.com to stay connected with friends' play, for extra earning opportunities and for in-depth stat tracking.
Continuous Multiplayer Action. No menus. No lobbies. No restrictions. Most Wanted introduces a new style of nonstop multiplayer action that continually serves up rewards and challenges so gamers are constantly one-upping their friends. Whether it's competing for the best starting position, the ultimate jump, or finishing first place, with the introduction of the new PlayList system, Most Wanted serves up constant gameplay and robust challenges to ensure fun, friendly, non-stop competition.
Need for Speed Most Wanted
Platforms: Xbox 360, PlayStation 3 and PC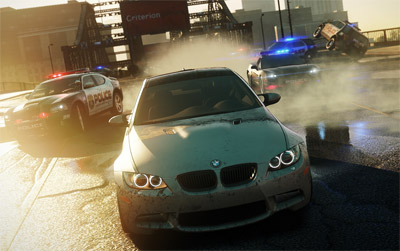 Interview with Leanne Loombe
Question:
How would you describe Need for Speed Most Wanted?
Leanne Loombe
: This is our take on Most Wanted; it's not a sequel to the original, it's about becoming 'Most Wanted' amongst your friends. At the heart of the game is a most wanted list which comprises of your friends and everything you do in the game gains speed points and it's that sequence that progresses you up the most wanted list. You can get speed points for everything you do in the game including single and multi-player. The person with the most speed points becomes the most wanted.
We wanted to shake things up a little bit and make Need for Speed Most Wanted unique and one of the big things that we're doing is allowing the player to have access to almost all of the cars at the beginning of the game which is really shaking up racing games because normally the convention says you have to grind through playing 20 - 25 events to get to the car that you want to drive; we're allowing the player to have access to those cars from the very start.
Question:
Can you please talk about what your role as a producer for Need for Speed Most Wanted means?
Leanne Loombe
: I have a team of people including programmers and artists and as a producer I manage them and the development of the game.
Question:
How to you model the cars and their physic?
Leanne Loombe
: We model the cars and then put them into the game world. We have our own in-house engine and we develop using our engine.
Question:
Can you talk about the testing process?
Leanne Loombe
: We have our own team of QA (game testing) and EA also has their own outsourced QA as well. The game is tested through the whole process as we're going through development and then obviously through alpha and beta which is when proper QA starts.
Question:
What is your target audience when making the game?
Leanne Loombe
: Normally the target audience is teenaged boys but Need for Speed Most Wanted is for everyone who wants to play; this game is accessible for all.
Question:
How do you find being a female in a male dominated field?
Leanne Loombe
: The games industry is generally a male dominated field especially in development, I don't find any problems with being in the field and I really enjoy it.
Question:
How do people react when you tell them about your job and what you are working on?
Leanne Loombe
: They are normally quiet jealous (laughing)! I am a big gamer; I love cars and games so this is the perfect job.