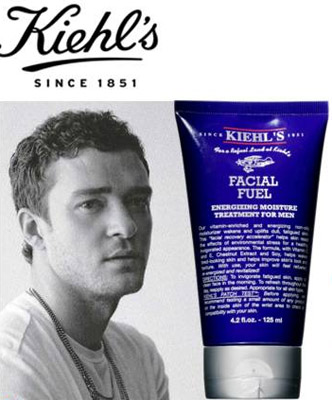 6 x Grammy Award winning singer, 4 x Emmy Award winning actor, fashion designer and restraint entrepreneur Justin Timberlake is a fan of the Kiehl's brand and is quoted as saying "Kiehl's always makes good stuff, and I like their Facial Fuel because it's simple and clean. Plus it's got a little tingle to it, so you feel like it's doing something."

Kiehl's Facial Fuel
Energising Moisture Treatment for Men

With a male customer following among the strongest and most loyal in the industry, Kiehl's Since 1851 is introducing its first treatment product formulated specifically for men - Facial Fuel - to its extensive offerings of efficacious skin care. Created for the "man on the go," this facial recovery accelerator wakens and uplifts dull, fatigued skin imparting a refueled, re-energised and revitalised appearance. Its unique formula, enhanced with Vitamins C and E as well as Chestnut and Soy Extracts, helps improve skin's look and texture, especially for a sleep-deprived or over-worked complexion. This vitamin-enriched and non-oily moisturiser helps skin resist the visible effects of everyday stress for a healthy, invigorated look.

Kiehl's reliance on advanced technology and naturally-derived ingredients to deliver a high degree of efficacy makes the Facial Fuel formula a unique and essential product for male customers who are increasingly demanding more sophisticated benefits from their skincare products. With Caffeine, this energising moisture treatment was designed to address the special concerns of fatigued, neglected skin - the result of lack of sleep, stress, or a strenuous workout at the gym. Facial Fuel is the ideal solution for the active urban man.

Since its beginnings as a small neighborhood apothecary, Kiehl's has formulated products which target the specific needs of its patrons, often in direct response to customers' requests. In recent years, and growing more prevalent, its male customers have come to expect products which are formulated specifically for them. While Kiehl's formulations are generally considered to be unisex, the company has offered products for many years which are targeted specifically to men, most notably its men's shaving care. With perennial favourites such as White Eagle Shave Cream and Blue Astringent Herbal Toner - as well as new favourites Multi-Purpose Facial Formula and Ultimate Strength Hand Salve - the company continues to address the needs of its devoted male customers.

Key Ingredients: Vitamins C and E, Chestnut Extract, Soy Extract and Caffeine.
Key Formula Attributes: Non-oily; energises and moisturises fatigued and dull skin; helps improve skin's look and texture; vitamin-enriched; helps skin resist visible signs of everyday stress.