I Am Juicy Couture
I Am Juicy Couture is for the girl who lives and breathes Juicy Couture and always wants more. She's bold and fearless with an individual spirit and style that makes a statement to the world.

I Am Juicy Couture evokes the glamorous rebel in every Juicy girl. She daringly proclaims exactly who she is not in order to declare who she is. She's a confident and unabashed trend-setter with a casual and luxurious sense of style. Never a wallflower, she has a dynamic personality that fascinates and enthralls, and a captivating femininity that creates a sensation wherever she goes.

Juicy Couture declares 2015 the Year of the 'It" Girl. To mark the occasion, the glamorous fashion brand unveils the new, unforgettable fragrance, I Am Juicy Couture, and announces supermodel Behati Prinsloo as the face of the fragrance.

The Fragrance
I Am Juicy Couture combines ripe, juicy fruits to open this bold and alluring scent before blending a seductive mixture of Gardenia and Cashmere Woods.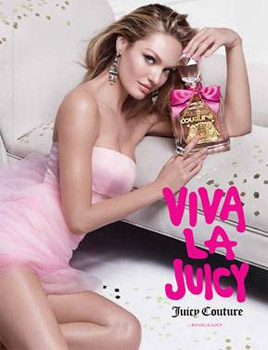 Juicy Couture announced world famous supermodel, Candice Swanepoel, as the NEW face of Viva La Juicy. The iconic fragrance just released a brand new ad campaign featuring the global sensation who is inspiring girls everywhere how to live life with Viva! Embodying the feminine glamour of the Viva La Juicy girl, the campaign channels Candice's infectious charisma and the fragrance's message to be larger than life and enjoy every moment fiercely.

When asked about the fragrance, Candice Swanepoel says,
'What I love most about Viva La Juicy is that I can wear it from day into night. Whether you're spending the day with your girlfriends or going out dancing at nighttime, it's the perfect fragrance. The fruity, floral scent will always turn people's heads when you walk into the room."

I am NOT predictable… I AM JUICY COUTURE
The fragrance opens with the biting succulence of bursting Raspberry, freshly tart Pomelo and lush Passion Fruit.

I am NOT apologetic… I AM JUICY COUTURE
In the heart, a narcotic temptation of Gardenia, Heliotrope, dreamy Rose de Mai and sensual Sweet Pea combine.

I am NOT conventional… I AM JUICY COUTURE
It finishes with an addictive luxuriousness of soft Musks, warm Woods and Amber.