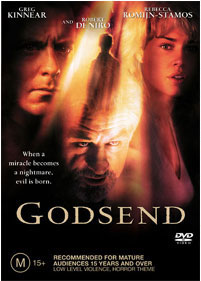 Starring: Rebecca Romjini-Stamos, Greg Kinnear & Robert De Niro
Rated: MA15+
Running Time: 100 mins

If someone you loved was taken from you, how far would you go to bring them back?

Paul and Jessie Duncan (Greg Kinnear - Stuck On You & The Gift; Rebecca Romjin-Stamos - X-Men & X-Men 2) have lost their beloved eight year-old son Adam, (Cameron Bright) in a tragic accident. As they are arranging for his burial, Dr. Richard Wells, (Robert De Niro - Meet The Parents & Analyse This) approaches with the incredible offer to clone Adam, essentially bringing back their boy and reuniting their broken family.

Despite the many legal, ethical and moral issues raised by the offer, the grieving couple, after much soul searching, accept Wells' proposal, placing them in a sort of Faustian pact with the doctor. But to the Duncan's, the secrecy Wells demands is insignificant compared to the hope that their son will again have the chance to grow up.

The couple moves to the small town of Riverton, home of Wells' impressive Godsend Fertility Clinic, where the stem cells carrying Adam's DNA are implanted in Jessie's womb and where Adam will be born and raised - for the second time.

Adam's new life follows a comfortable and, to Paul and Jessie, predictable pattern, until he reaches his eighth birthday - and virtually begins living on borrowed time.

The parents have placed their complete trust in Dr. Wells, but now questions are raised and they start to wonder: just how far did he really go? Did he settle for simply playing God? Once they unravel the horrific truth, Paul and Jessie Duncan will have to come to terms with what they have done, and what has been done to their family.

Review/Overview:
When a miracle becomes a nightmare, evil is born.

Paul and Jessie Duncan are the proud parents of Adam, their eight year-old son. Paul is a High School Teacher; he is loved and respected by his students. Jessie is an artistic photographer; she sells her works through a gallery.

They are a happy family, Paul has just been offered a new teaching job at a far more prestigious school and it looks like things are on the up.

That is until the ill-fated shopping trip the day after Adam's birthday party, when a tragic car accident kills Adam.

At Adam's Funeral a man approaches the grieving couple, he happens to be one of Jessie's university lecturers, Dr. Wells. But he is not there for old times sake, he has a proposal for the couple.

The Dr has perfected a method of cloning that although highly illegal will enable them to use their dead son's cells to create a new child so that they can start over as if the whole accident never happened. The catch is they need to move to a small town where the clinic is located and break all ties with friends and family.

As well as helping to clone the new Adam, the doctor also provides a house with a basement that can be easily converted to a dark room, and gets Paul a teaching position at the local High school.

The procedure is successful and the small family is back together again, with the addition of an "Uncle" (Dr. Wells).

Fast forward a few years to Adam's 8th birthday party and suddenly things have started to change, this is where the fun starts when Adam starts acting out of character.

The characters were all well acted and believable for the most part, particularly the interactions between the parents and their child and the grief when their son is killed. It is the part after the second Adam's 8th birthday party that it is where the viewer will either decide they love or hate it.

I won't tell you what camp I am in, but see it for yourself and decide, it could even be an interesting experiment with a group of friends.