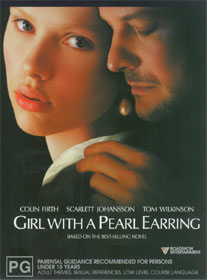 Starring: Scarlett Johansson, Colin Firth, Tom Wilkinson
Director: Peter Webber
Genre: Drama
Rated: PG
Running Time: 96 mins

Griet (Scarlet Johansson) comes to Vermeer's (Colin Firth) home as an illiterate servant but her duties take her to the Master's studio. Here she shows an instinctive affinity with the artistic process and Vermeer arranges for them to spend more time together. His obsession with her beauty becomes obvious to Catharina (Essie Davis), his jealous and possesive wife and her scheming mother. Caught in the middle, Griet must also deal with the lust of Vermeer's patron, Van Ruijven (Tom Wilkinson) who agrees to continue his patronage if Vermeer will paint Griet. Thus, the servant becomes the subject of Vermeer's most famous work.

Review:
'Girl With A Pearl Earring' is one of those movies that is exquisite and oozing a luscious romantic atmosphere. Scarlett Johannson is simply perfect as Griet and she has been nominated for many awards for the role. She is able to suggest a character of great depth. Colin Firth is as gorgeous as he always is, with that famous aloofness that he seems to project. The role of Vermeer is one of few words, it is more a mood and emotion that is conveyed so subtly. Overall, this is a lovely film, with an equally lovely cast, soundtrack and style, which is well worth catching.