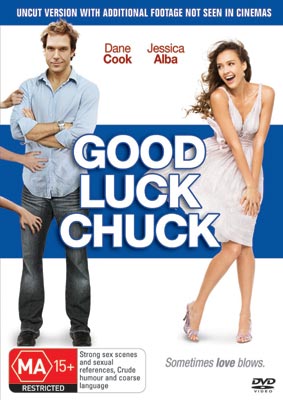 Starring: Dane Cook, Jessica Alba
Director: Mark Helfrich
Screenwriter: Josh Stolberg
Genre: Comedies

True love is a blessing....and a curse. She's the blessing, he's the curse! DANE COOK (EMPLOYEE OF THE MONTH) and JESSICA ALBA (FANTASTIC FOUR) star in this outrageous comedy about a guy who must break his bad luck streak with women before he scares off the woman of his dreams. GOOD LUCK CHUCK is a laugh-out-loud, feel-good romantic comedy. Special features include uncut version of the film containing additional footage not seen in cinemas.

Synopsis:
Standup comedian Dane Cook (EMPLOYEE OF THE MONTH) stars in this romantic comedy as Charlie Logan, a successful dentist cursed with the affliction of having the women he dates fall in love with the next guy they meet. After a 1985 flashback reveals how, as a child, Charlie came to be hexed, the film finds the grown bachelor taking advantage of his predicament. Because hes never really loved any of the women hes dated, it doesnt hurt much when they leave. But when rumors start circulating that sleeping with Charlie is a lucky love charm, Charlies popularity reaches new heights that even he, an experienced ladies' man, cannot keep up with.

And this luck couldnt come at a worse time, as Charlies just met his dream girl, penguin zookeeper Cam (Jessica Alba). Perhaps in Charlies favor is the fact that Cam, despite her beauty and brains, happens to have a hex of her own--extreme clumsiness. Everywhere she goes, minor disaster quickly follows. Will Charlie be the next casualty of her accident-prone charm?

Review: Full of great one-liners to amuse fans of Dane Cook's standup routine. The dynamics between Cam & her brother is excellent. Humor revolves mainly around sex with a graphic sex-scene montage betwen Cook and a string women eager to find true love after this affair.

SPECIAL FEATURES:


Uncut version of the film containing additional footage not seen in cinemas
Audio commentary by director Mark Helfrich, producers Mike Karz, Screenwriter Josh Stolberg and star Dane Cook
Never-before-seen deleted scenes
'The Real Life Good Luck Chuck' - behind-the-scenes featurette on the inspiration behind the movie o6 additional featurettes on the making-of-the movie
Blooper Reel
'Sex-Matrix' - Multi-angle featurette
'Ad Libs' - featurette

Review: A fun and original story about one guys journey to find the right girl. Cursed at a young age Chuck has found it trouble to make a commitment, until he meets the right girl and finds out that's he's the poster boy for women as a good luck charm to find Mr Right. His deprived friend talks him into 'doing it' for the right reason, but he soon discovers that it's not much fun unless you are with the right girl. Can he break his unlucky streak? Good Luck Chuck!