Gloves have re-emerged as the ultimate style accessory for autumn/winter 2004/2005. During the season previews, the global fashion circuits of New York, London, Paris and Milan were brimming with glove ideas for every occasion. The age of elegance is back and what better way is there to promote grace and glamour than with a pair of stylish gloves?
What is different this year is that gloves are fashionable not just for women, but also for men too. This winter is all about handing over some authority to the males - it's not just women who want to look classy, men love making a statement with gloves just as much too! Gloves are not only the ultimate catwalk accessory, but are also going to be a highstreet favourite, gracing the shelves of the leading stores such as Zara, Mango and Hennes & Mauritz (H&M).
The European Glove Association (EGA) has searched long and hard to bring you the definitive gloves style guide for autumn/winter 2004/2005. So when summer slowly turns to autumn and then to winter, just exactly what will fashionistas be wearing to spice up those long chilly months?
Doing it for the girls

Leather it up
Leathers and furs are undoubtedly the fashion must-have of 2004 and 2005. Hermès leads the way with an amazing collection of leather dresses, skirts, bustiers and coats in brown and black leathers, all accessorised with leather gloves in full length and wrist styles. For a cosy look, sheepskin hoodies in creams and chocolates are teamed with matching gloves and full length skirts.
Never one to disappoint, Julien McDonald's latest collection is wall-to-wall chic, featuring fur scarves and sassy satin dresses, finished off with a sexy pair of wrist-length leathers. High waisted leather pencil skirts in creamy browns and patterned purples and blacks are combined with knitted sweaters, satin vests and sultry leather gloves. Jasper Conran mixes chocolate leather and jet black waistcoats with full length fabric and leather hotties to create an African-influenced look that fuses ethnicity with modernity.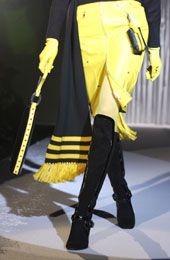 Colour me softly
Colour is back in a big way, with pillar box reds, vivid greens and vibrant purples and yellows making the biggest statements of all. For a look that is English rose and bursting with colour, Burberry mixes suede coats in vibrant greens and shiny conker brown jackets with gloves in lime green. For wall-to-wall colour, take a look at Jonathan Saunders. He combines all-in-one multi-coloured '80s jumpers and swimming costume-esque suits in bright purples, reds, yellows, whites and greys with leather half-wrist gloves in matching vibrant shades. Or for a look that screams retro cool, take a lead from Italian designer, Mariella Burani. Fur stoles in funky purples and spicy greens are contrasted with matching suede gloves or fingerless gauntlets in black. Or for lashings of pillar box red and in-your-face yellow, go for Aigner's range of eye catching gloves combined with pencil skirts, whimsical fifties dresses and leather coats.
Wedding fever
For the daring bride, Spanish designer, Pell Xavier's collection of racy wedding dresses are featured with thigh high leather boots and three quarter pure white lacy gloves. Or for a look which combines convention with individuality, mix designer satin gloves in an array of colours from Rochas and Marni with traditional wedding gowns.
Boys, boys, boys
The most sophisticated males will be drawing inspiration from iconic fashion house, Gucci. Teaming black wrist length gloves with smart suit jackets in black leathers or white cottons or even double breasted macs, the look is chic and sophisticated. Gloves even look great accessorised with a shirt and tie - perfect for a snug look on the way to the office.
For Emporio Armani, gloves in cream satin or black leather are an effective complement to an '80s-inspired look which sees turquoise suedes and pin striped jackets mixed with patterned slacks. Never one to go by unnoticed, Issey Miyake combines all in one red 'puffa' coats with army print gloves to create a futuristic look that is both bold and daring.
Whatever your style, there's undoubtedly a pair of gloves out there for every follower of fashion this autumn/winter.
www.glovestory.com