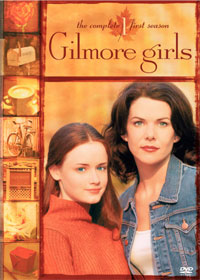 Starring: Lauren Graham, Alexis Bledel, Melissa McCarthy, Keiko Agena, Yanic Truesdale, Scott Patterson, Kelly Bishop.
Genre: Drama
Running Time: 21 episodes - 922 mins

Welcome to the picture-perfect New England town of Stars Hollow, Connecticut. Founded 1779. Population 9.973. And home of 32-year-old Lorelai and her 16-year-old daughter Rory - the Gilmore Girls.

Heart. Humor. Fan-pleasing DVD extras. They're all in this 21 episode, Year-one collection of the much loved series. Lauren Graham plays quick witted Lorelai, manager of Historic Independence Inn, mother of Rory (Alexis Bledel) and also her daughter's best friend, confidante and mentor who's determined to help her avoid the mistakes that sidetracked Lorelai when she was a teen. A gifted ensemble plays the colorful Stars Hollow townies. And Kelly Bishop and Edward Herrmann play Lorlelai's blue-blooded parents. Once kept at a distance by Lorlelai, they're back in her life. So are the issues that originally drove them apart.

People often mistake Independence Inn's manager, headstrong single mom Lorelai Gilmore (Lauren Graham) and her equally willful teenage daughter, Rory (Alexis Bledel) for sisters. Lorelai and Rory cope with the same emotional ups and downs, including Lorelai's overbearing, old-money parents and the joys and frustrations of the male gender. But when Rory's attention turns from dreams of private school and Harvard to thoughts of boys and adolescent self-reliance, single mom Lorelai begins noticing more of her own rebellious youth-only 16 years ago-in Rory. This heartfelt, humorous drama appeals to young and old alike with its blend of traditional family issues and hip, contemporary attitude. Reacquaint yourselves with television's most appealing mother-daughter duo in this collectible six-disc DVD set, which contains all 21 episodes from the first season including the pilot episode.

Special Features:
First season making of documentation - welcome to the Gilmore girls
Gilmore goodies and gossip - Rory's dance on screen factoids
Gilmore isms as coined by the show's creator
Additional scenes

Review:
An appealing mother & daughter duo series, charming to a tee. Cast are well suited to their roles and storyline is witty and heart-warming.