THIS SUMMER'S MUST HAVE SANDAL A WALKING MIRACLE
Fashionistas are swapping their four-inch heels in favour of FitFlops
Because smart women wear FitFlop sandals and get a workout while they walk.
FitFlops's patent-pending microwobbleboard technology midsole increase leg muscle activity by approximately 10-12% every time you take a stop. They're the flip flops with a gym built-in (And FitFlop wearer feedback indicates that the extra 10-12% is so tempting, women now never want to take their sandals off). They help improve your posture, tone your calves, you thighs and your bum muscles and have been reported to provide relief from plantar fascitis, oedema, neuropathy, scoliosis and RLS (among other conditions).
Perfect legs are a footstep away with the revolutionary FitFlop. This brainchild of Bliss Spa founder Marcia Kilgore merges ground breaking fabrics with innovative design to deliver the ultimate work out for your legs.
For spring 09, FitFlop is proud to present an expanded collection of Italian designed sandal shapes in trend-forward colours with sporty and feminine upperfinishes. So pick a pair and get a workout while you walk (even Julianne Moore and Oprah have been seen sporting them).
"I have had them for about six weeks now. I bought them because of the support soles as I suffer with back problems. No back aches since I have been wearing them".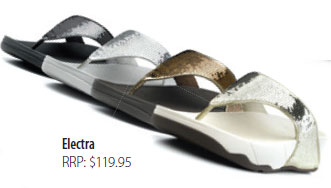 Heidi Klum told Oprah FitFlops were her favourite shoes for summer; Kylie Minogue, Molly Sims and Jessica Alba all swear by them. Yes, the worldwide sensation that is FitFlops continues in Australia this summer with brand new fashionable creations designed to add some sparkle and shine to your summer wardrobe.
The WalkStar II has been upgraded and now features an all leather upper as well as padded microfibre lining for additional comfort. FitFlops have been clinically proven to increase the amount of time that the gluteus maximus muscle is 'activated' during every single step. Available in Black, Silver, Oyster, Bronze and Aqua. The all New Electra style provides some summer glam!
The cushion provided by the EVA midsole helps reduce joint strain and absorb shock. In fact, many FitFlop wearers have reported relief from back pain after just a few days of wearing them. Available in Silver and Black.
Review: Taking care of your feet is now fashionable with FitFlops. The cushioned base not only feels terrific, but provides a bit of a platform for those like a bit of height. You will feel the difference in our body & especially your feet in FitFlops. Taking the pressure out of you walk does wonders for the rest of your body. But best of all, they look great, so you don't have to compromise your style to wear comfortable shoes. I only hope they extend the range to strappy sandals in the future...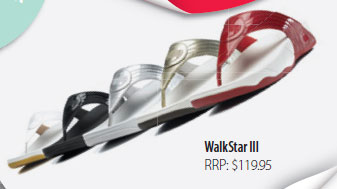 Available in Jellies, Electra & WalkStar III styles and a range of colours.
FitFlop - RRP: $119.95
FitFlop Electra - $119.95
Available at selected David Jones, The Athlete's Foot, Sandler and independent retailers. Stockist Number: 02 9939 0200
To view more of the fitflop range visit
www.fitflop.com/wheretobuy