Get the look with the latest fashion reports from our resident fashion guru - Belinda Tartaglia.
Hello Fashion Minx!
Fashion Gets Sporty
It's SPORT, SPORT, SPORT on the fashion scene at the moment! From designer track gear to more retro appeal, terry towelling jumpsuits and canvas tennis shoes are making a statement on the tennis courts.
SPORTY LOOKS FOR 2003
Baseball caps, anoraks (with a millennium twist), hooded tops, jumpsuits, bomber jackets, visors with sport label logos and tennis dresses.
Sheer Sexiness
The screen sirens of the 1950's have inspired designers to bring romance back into the fashion world. Boudoir glamour as coined by those in the know, is lingerie that is good enough to be worn as a garment! Lace trims; ribbons, camisoles, petti-coats and satin slip dresses make a return. Think of Bridgett Bardot and Sofia Loren!
TRENDS FOR 2003
Fashion for 2003 will be a mixture of sexiness, elegance, attitude and glamour.... Here are some fave looks of mine: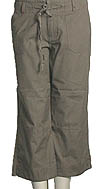 Miniskirts
- micro minis and anything short are to return.
Metallic Luxury
- gold lame, gold leather, silver and bronze beaded and bauble dresses, pants and t-shirts.
Satin
- dresses and pants return in satin, teamed with kitten heels and oversized bows.
Military Chic
- cargo pants in khaki, green, olive, beige and brown. Look out for combat belts and team with stiletto heels.
Citrus Colours
- lime, lemon and orange make a big come back!
Pretty in Pink
- musk pink, baby pink and dusty pinks will be the New Black!
Skinny Pants
- the slim cigarette pant returns. More high waisted, the emphasis will be on the waist and hips.
Asian Flair
- Asian prints and Chinese inspired prints in silk kimonos.
Star Style
Ever wanted to have the same fashion sense and style as your favourite Hollywood stars and divas but can't afford a stylist? Well read on for some hot tips and fashion pointers without the big budget...
This month we take a closer look at the star style of Hollywood movie star and face of Revlon - HALLE BERRY!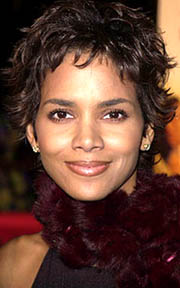 Halle Berry
has starred in some major blockbuster movies including "Swordfish" and has won an Oscar for her performance in "Monster's Ball". Recently she featured as one of the Bond girls, 'Jinx' in hit Bond movie "Die Another Day".
With her coffee and crème complexion, Halle has an elfin style haircut, which completes her super stylish and elegant look, making her the perfect choice as the face of cosmetics giant Revlon.
If there is one look this woman knows how to wear, it is the look of Hollywood glamour, with Halle often sporting evening gowns that are long and luxurious in materials like silk and beaded with crystals. Preferred colours include brown, pink, black and peach.
When she is not in the Hollywood spotlight (no chance!), Halle likes to team denim and leather together.
Halle's hair is often styled in a non-fuss, short style that is versatile. This particular hairstyle looks best when worn in a flirty flick style or in a separated textured look.
To achieve the Halle look, combine a white t-shirt with denim and a fitted leather jacket. A pair of silver or gold hoops will dress up the outfit.
Halle likes to wear neutral make up so try either
Revlon Lip glide colour gloss in Patent Leather Pink and Revlon crème eye shadow in Pink Petals.
Well now it's Ciao from me, stay tuned next month for more fashion tips and hot looks!
-
Belinda Tartaglia


Discuss this topic in the Forum > Fashion Guru