Get the look with the latest fashion reports from our resident fashion guru - Belinda Tartaglia. Hello Fashion Followers! Leopard Print
An inspiration from the masters of mixing and matching, Dolce & Gabbana, the ever-seductive leopard skin print returns. This look is popular in Europe from faux fur coats to skimpy chiffon tops. Wearer beware, leopard print should be kept to one item at a time otherwise it may look tacky.
Gothic Girl
A rock n' roll attitude with a touch of Goth. Black is back. This look is not for the faint hearted; it's very sexy concentrating entirely on the colour black.
Dramatic make up and black nails add a glamorous feel, while accessories featuring the crucifix are extremely popular. Black velvet, faux fur and satin in black are the key essentials of this look.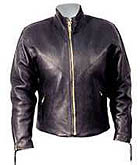 Biker Chic
Motorbike jackets with a modern edge have taken Europe by storm and are bound to make a big return in the fashion world. Think 60's retro. It's not just jackets alone; bags in embossed leather with fringing and aviator sunnies make a return too.
White Hot!
Outfits that concentrate on white are the opposite of the Gothic look and emphasize themes such as purity and innocence.
Leather jackets, shoes, belts and bags will be in white this season and will remain popular until next season.
Hair Now

Blonde Ambition:
Once the weather starts to warm up, brunettes will turn blonde. Hues of caramel, honey and wheat blonde make their way back into hairdressers and colourists salons.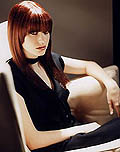 Fringe It!
Blunt thick fringes make a return and are very reminiscent of the 1960's.
For long hair, heaver blunt fringes look best, and for short hair - a fringe cropped high on the crown gives a modern twist to a simple hairstyle.
Braided Maiden:
As seen on stars including Kylie, Britney Spears and many more. Plaits have adorned superstars and models in Europe and the United States in recent times. Most popular on the runway is braided side tendrils of hair, which is slicked back, using a glossy sheen product.
70's Hair Flair:
Tousled hair and loose curls inspired by the stars of the 70's will be a big hit again in coming months, in several different styles from Farah Fawcett to Michael Jackson inspired locks.
Watch Out For:

Spring 2002:
pretty in pink! Pink hits a new wave; anything from liquid eyeliner to nail polish will be in shades like fuchsia, hot pink and baby pink.
Summer 2002:
shades like bronze and gold will be on everyone's lips this season. Accessories, bags, shoes and sunglasses will be in rich metallic shades.
Star StyleHave you ever ogled the outfits of the superstars and divas of the celebrity world and wished you could have their style and look super cool?
This month we take a closer look at the star style of Hollywood actress
Gwyneth Paltrow
and give you some fab fashion tips on how to achieve her look.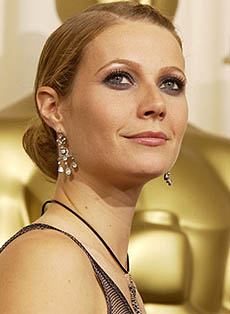 Style Profile: Gwyneth Paltrow
Gwyneth has graced many front covers of famous fashion magazines and has starred in a myriad of movies, recently donning a "fat suit" in the controversial comedy "Shallow Hal".
In the last few years, she has been romantically linked to Hollywood hunks including Brad Pitt and Ben Affleck.
She has been likened as the modern day Grace Kelly and exudes sheer elegance and beauty.
From day to night, Gwyneth looks effortlessly gorgeous and has a style that is classical and minimal. She is the daytime denim queen, and at special events, she steals the limelight. Gwyneth wowed movie stars and guests at the 1999 Oscars, when she wore a pink chiffon ball gown.
This gal picks a winner every time and it's simply because she knows what she likes and can carry it off in style.
For that ultimate Gwyneth day-look, go for "distressed" fitted low rider denim jeans, team with a tailored blazer, a leather beret and a pair of dark sunglasses and you have an outfit that is classical and comfortable.
For the glam factor, a pair of loose fitting pants, a glitzy camisole neck top and flashy long earrings teamed with a pair of high heeled shoes is sexy and a guaranteed show stopper.
Hot Tip
Gwyneth's outfits are always great because she opts for simple cuts, and "block" colours to emphasise her petite frame. She never goes without a quirky handbag, and does not "spoil" an outfit by wearing too much jewellery. This star has often been seen in colours like camel, brown, baby pink, aqua, black and grey.
Her blonde locks are often worn straight, and on some occasions she sweeps her hair up in a loose chignon that is elegant for an evening look.
Make up wise, this beauty opts for neutral tones and often wears a raspberry red lipstick.
Well now it's Ciao from me, stay tuned next month for more fashion tips and hot looks!

- Belinda Tartaglia
(fashion@femail.com.au)