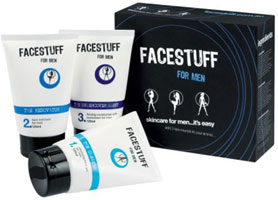 Facestuff is a new local brand designed to help Aussie men save face. Facestuff products are unique in that they have been developed by an aromatherapist in conjunction with a maintenance manager and designed specifically for the male skin so that only minimal products are required for their regime. Facestuff is different...it has been specially designed for mens skin and if your skin changes all you need to do is change the frequency of use.
The Cleaner
- A low scent cleansing gel facewash with all natural ingredients including aloe vera to soothe and 100% pure Essential oils of Palmarosa and Rosewood to get the circulation going and blood flowing for healthy skin...This product can also be used as a shaving aid effectively doing 2 jobs at once!
RRP $23.99
The Renovator
- No girly scrubs here, this bamboo grained exfoliator will remove dead skin cells for a clear fresh face, the aloe vera soothes and the 100% Essential oils of Patchouli and Rosewood help balance the skins oil levels. For max benefit use before shaving to smooth the way for a close, irritation free and longer lasting shave...
RRP $29.99
The Undercover Agent
- Targets wrinkles and dull skin with this firming moisturiser, which also contains a sunscreen, to smooth away lines and firm the skin. The moisturiser contains Cedarwood, Mandarin and Rosewood 100% Essential oils for a light woody scent and to balance the skins oil levels and smooth the skin.
RRP $27.99
The Briefcase
- A 3 pack of each of our products, buying it this way saves you 15%. The Briefcase makes an ideal gift or starter pack, easy to purchase, saves you money and makes the most of the entire Facestuff Crew - 'The Cleaner', 'The Renovator' and 'The Undercover Agent' can all work together to get you a cut above the rest...
RRP $69.99
For stockists visit
www.facestuff.com.au