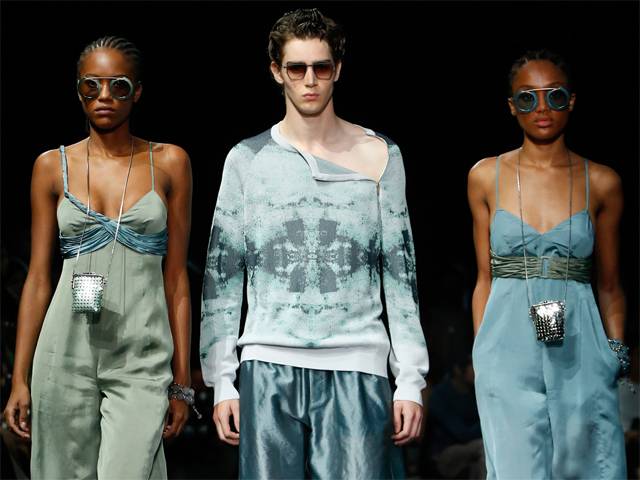 The city is the horizon, the attitude is effortlessly feminine.

A collection in which the clean lines come from a play on subtractions which adds concrete and impactful qualities. The balance of soft colours and surfaces that are worn, wrinkled, lightened and worked on create the syntax of a floaty, immaterial style.

A harmony of powder pink, aquamarine and sky blue mixed with greige, and then exotic notes of cornflower blue and acid green unfurl in an overlapping of shaded or pinstriped silk with a paper effect, silk and ultra-lightweight crushed velvet, embroidered tulle. An airy lightness dominates the shapes, which appear to sweep over the body, in fluid duster coats, small jackets, and wraparound and deconstructed blazers coordinated with straight-leg or gathered-atthe-hem trousers, dresses in vaporous tulle which in the evening, lit up by small crystals, sequins and metal strands, turn silvery, almost lunar. Understated embroidery creates delicate masculine patterns.

The accessories dictate the urban tone of the whole, taking this discreet style into a real context, where subtlety is more than idealisation. High-top sneakers in faded denim and flats with luxe appliqués like crystals laid over naked skin. Even the tiny plexiglas bags are worn like jewels.