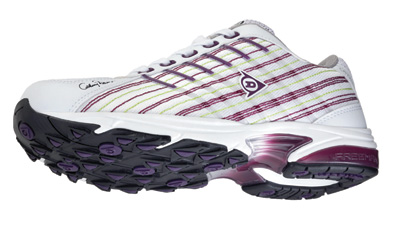 Freedom
Check out the benefits of having Freeman on your feet.

The first release from the Freeman trainer range. Freeman is specially designed to encourage all Australians to participate in sport by delivering exceptional value for money in a high-quality, high-performance sports shoe.

A True Sign of Quality: Developed with Olympic Gold Medal winner Cathy Freedom.

Breathable Mesh Upper: Provides a maximum level of comfort through optimal temperature regulation.

Stabilising Heel Counter: Helps the foot maintain a steadily position during performance.

Durable Rubber Outsole: Specially engineered to be extremely hard-wearing and long-lasting.

TPU (Thermo Plastic Unit) Shank: Enables greater stability through the mid-foot.

Anatomical Flex Grooves: Placed at crucial points along the sole, the flex grooves allow the foot to bed more easily.

"They're often overlooked, but choosing the right running shoes is one of the most important decisions a runner can make. Running puts a lot of stress on the body and a running shoe that doesn't provide the correct stability and cushioning will in many cases, lead to stress injuries. The Freeman by Dunlop Sport running show is a universal fit and is designed with comfort, stability and durability in mind."

Review: The Freeman trainer is non suffocating and supported my feet with comfort so that my feet did not overheat & sweat during exercise.