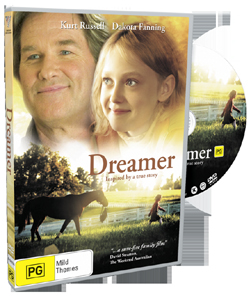 Starring: Dakota Fanning, Kurt Russell, Kris Kristofferson, Elisabeth Shue, Luis Guzman, Freddy Rodriguez, David Morse, Oded Fehr,
Director: John Gatins
Rated: PG

"Dreamer: Inspired by a True Story" tells the story of a father who, for the love of his daughter, sacrifices almost everything to save the life of an injured racehorse and bring the promising filly back to her former glory. The film stars Kurt Russell ('Miracle'), Dakota Fanning ('War of the Worlds') and Kris Kristofferson ('Lone Star').
Ben Crane (Kurt Russell) was once a great horseman, whose gifts as a trainer are now being wasted on making other mens fortunes. Sonador -called Sonya - was a great horse whose promising future on the racetrack is suddenly cut short by a career-ending broken leg. Considered as good as dead to her owner, who also happens to be Bens boss, Sonya is given to Ben as severance pay, along with his walking papers. Now, it will take the unwavering faith and determination of Bens young daughter, Cale (Dakota Fanning), to bring these two damaged souls together in a quest for a seemingly impossible goal: to win the Breeders Cup Classic. However, the true miracle might be that, in helping this injured horse, what they are actually healing is their own family.

Kristofferson stars as Ben Cranes father, whose strained relationship with his son is bridged by their mutual hopes for Sonya. The main cast also includes Oscar® nominee Elisabeth Shue ('Leaving Las Vegas'), David Morse ('The Green Mile'), Freddy Rodriguez (HBOs 'Six Feet Under'), Luis Guzman ('Traffic') and Oded Fehr ('The Mummy').

"Dreamer: Inspired by a True Story" was directed by John Gatins from his own screenplay, marking his directorial debut. Mike Tollin ('Radio') and Brian Robbins ('Varsity Blues') are the producers, with Ashok Amritraj, Jon Jashni, Bill Johnson, Stacy Cohen and Caitlin Scanlon executive producing. The film will be distributed domestically by DreamWorks Pictures, with Hyde Park Entertainment handling the international release.