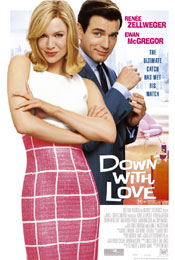 Actors: Ewan McGregor, Renee Zellweger, David Hyde Pierce
Director: Peyton Reed
Producers: Bruce Cohen, Dan Jinks
Studio: Twentieth Century Fox
Run Time: 102 min
Rated: PG

Renee Zellweger (Chicago) and Ewan McGregor (Moulin Rouge) are the toast of the town in the most stylish romantic comedy of the year! From the producers of American Beauty and the director of Bring It On comes a teasing, tantalizing battle of the sexes that is pure enchantment. A romantic comedy with a twist, Down with Love puts a spin on the golden age of the classic Rock Hudson-Doris Day comedies.

When best-selling feminist author Barbara Novak (Zellweger) becomes the target of dashing playboy Catcher Block (McGregor), these sparring players and would-be lovers generate sparks. In other words, the ultimate catch has just met his match!

Her book is a pre-feminist manifesto on saying "no" to love and "yes" to career, empowerment and sex. As Barbara's book skyrockets to the top of the best-seller charts, she becomes the target of ace journalist & ladies man Catcher Block, who is determined to take her down!

Set in the early 1960s, every frame pops up with the super-saturated palette of sixties Technicolor as it follows the story of Barbara Novak hitting New York City with her new book 'Down with Love'.

DVD Special Features:
HBO Special
Full length feature - widescreen
Director's commentary
5 deleted sceens
"Here's to Love" Music video
"Guess My Game" segment
lead actors' screen test
bloopers
7 featurettes
Audio: English 5.1 Surround
Video: Anamorphic Widescreen
Close Captioned: Yes
Color: Color

Review:
A delightful comedy full of twists, turns, teasing and game playing right to the very end. A wonderful light-hearted comedy that will put anyone in a great mood. Love it. 'Down with Love!' A delightful performance by David Hyde Pierce (Fraser) as he desperately seeks a relationship.