Donny Galella Dressing For Your Leg Type Interview
With the summer season upon us, Australia's leading hair removal expert, Veet*, has teamed up with fashion guru, Donny Galella, to launch Veet's Dress Right for Your Leg Type Guide, to help Aussie ladies achieve the perfect pins this party season. With legs on show during the warmer months but often overlooked in the style department, this fresh-approach guide to styling for your leg type can help Aussie women make the most of their touchably smooth legs this summer - whatever their shape!
With most style guides focusing on how to dress for your body shape, Veet's Dress Right for Your Leg Type Guide recognises the area women can tend to forget when choosing the right outfit. This empowering new guide showcases the most common leg shapes and provides expert styling tips on how to highlight your leg features this summer, to help you look - and feel - your very best. Australia's leading fashion expert and stylist to the stars, Donny Galella, says:
"When it comes to picking the right outfit, we often focus on dressing for our body shape as it is vital to creating the perfect look. However, when styling I find there are many women who claim their legs are the most unpopular part of their body. Veet's Dress Right for Your Leg Type Guide is genius because it's a great way for women to understand how to work with the legs they have and to love their body, no matter what shape, size or skin type. With summer now here, it's time for ladies to show off their pins with confidence."
Together with Donny Galella, Veet has outlined the four most common leg types and the top style tips to help women choose the right outfit for their legs and help boost their confidence this summer. Here's a taste of how Veet's Dress Right for Your Leg Type Guide can help you: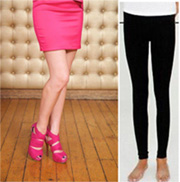 The Giselle
Leg Type
: Giselle is a great example of the straight up, straight down, skinny leg.
Style Solution
: To create the illusion of shape throughout the leg, choose a heel with a rounded toe. A pointed heel will generate a sharp and angular look.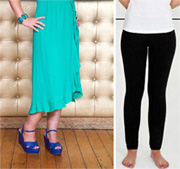 The Mischa
Leg Type
: Do you carry weight around the ankles and calves? Then you have the same leg type as the beautiful Kelly Clarkson, Mischa Barton and Jennifer Love Hewitt!
Style Solution
: Embrace the legs you have and have fun with fashion! Having thicker ankles doesn't mean that long hemlines are your only closet friend! Try experimenting with the 'mullet' hemline - this hemline is shorter in the front and longer at the back.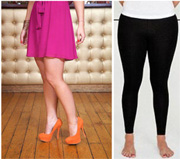 The Beyonce
Leg Type
: You are a bootylicious beauty who has more shapely legs, thighs and bottom. Embrace your stunning pear shape and follow in the footsteps of J Lo, Kim K and Beyonce when it comes to style.
Style Solution
: Expose your pins but opt for skirts and dresses that skim over your hips and thighs - A-line style skirts and dresses are your wardrobe must buys.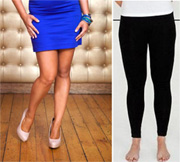 The Kylie
Leg Type
: You have petite, shorter length legs like our very own Kylie Minogue and look at your long-legged friends with envy.
Style Solution
: The nude heel is your wardrobe essential! Sporting a pair of nude platform heels will give the illusion of longer, sleeker legs. Look for a nude tone that matches your skin colour and avoid shoes with an ankle strap as these will cut your leg at the wrong place, making you look and feel shorter than you are.
Veet is excited to be partnering with Donny Galella to release Veet's Dress Right for Your Leg Type Guide to help Australian women look and feel their very best whatever their leg shape.
To see the full Dress Right for Your Leg Type Guide, please visit
www.donnygalella.com.au/blog
Interview with Donny Galella
Question:
How common is it for women to really dislike their legs?
Donny Galella
: It's not uncommon at all; I find many of my clients don't like showing their legs especially during the warmer months. But never fear, the 'Dress Right for Your Leg Type Guide' I've created in conjunction with hair removal expert Veet, will help women across Australia get their pins out with pride.
Question:
Can you share your never fail quick tip for improving the legs?
Donny Galella
: It's really as easy as:
1) Make sure you remove all hair by using a non-irritating, long-lasting top hair removal product like Veet for a silky soft and touchably smooth finish
2) Use a good fake tan which will make the legs look healthier and leaner; and
3) Ensure you wear the most suitable shoes and dress styles to flatter your leg type - check out Veet's Dress Right For Your Leg Type Guide to discover your wardrobe essentials.
Question:
How can we hide thicker ankles?
Donny Galella
: Thicker ankles can be disguised by wearing a higher heel as this will help to elongate the leg. The mullet hemline (shorter at the front, longer at the back) can be a clever way to flash a bit of leg, yet still give you some coverage and confidence. Wear a fabulous statement necklace, so that the focus is drawn to your top half and away from your area of concern.
Question:
What's your number one tip for making legs appear longer, than they are.
Donny Galella
: You simply can't go past a pair of nude coloured platform heels. They will cleverly blend in with your skin tone, and make your legs look taller and leaner. It's the oldest styling trick in the book and never fails.
Question:
Can tall woman, still wear heels?
Donny Galella
: Absolutely! Height is a beautiful thing, so don't be afraid of heels if you are tall and embrace your height.
Question:
What are some of the easy mistakes women make when styling themselves?
Donny Galella
: Women often don't dress for their body shape or leg type, it's an easy mistake to make but can be rectified so easily. I urge all women to take some time to research their body and leg type and then establish what styles would suit them best.
Question:
Can you give us your number one top tip on how to choose the best summer wardrobe in preparation for baring your pins?
Donny Galella
: Much like my last answer, it's vital all women know their body shape and particularly their leg type during the summer months. Once you are armed with this information you will then know what summer styles to look for. For example women who carry weight in their upper legs (known as 'The Beyonce' in Veet's Dress Right For Your Leg Type Guide), then I would suggest looking for a knee length a-line summer dress or gorgeous light kaftan that skims the body.
Question:
How can we hide 'thunder thighs' when dressing for special events?
Donny Galella
: For women concerned about thighs, look for dresses that skim over your thighs such as a-line styles of fuller 1950's style skirts. Wear an amazing statement pair of earrings or necklace, or some fabulous sunglasses as these will cleverly draw the attention to your top half and away from your area of concern.