This Summer, Be Charmed
DKNY Introduces Two Charmingly Delicious Scents
Summer brings with it renewed energy. This summer, DKNY will charm you with the introduction of two limited edition eau de toilettes with the sunniest of dispositions that capture that very spirit. Each is an alter ego for their popular Delicious sisters, only a bit brighter and fresher, and of course, thoroughly charming.
DKNY BE DELICIOUS CHARMINGLY DELICIOUS EAU DE TOILETTE 125ml
RRP: $105.00
Take a bite out of summer. The exclusive American Apple note in DKNY Be Delicious has been enhanced with energetic solar freshness, dewy watery notes and a citrus shimmer to create a fragrance full of summer light and fresh energy.
DKNY RED DELICIOUS CHARMINGLY DELICIOUS EAU DE TOILETTE 125ml
RRP: $105.00
A summer cocktail of sumptuous red fruits, mouthwatering apple and sexy vanilla are the base of this tantalizing summer scent. Add some velvety roses and some lush violet petals, and you have a warm weather treat too enticing to resist.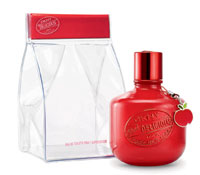 Both of these summery charmers feature Be Delicious' signature apple note, exclusively developed for Be Delicious for its introduction in 2004. Fittingly, the newest summer incarnations are packaged in nostalgic apple juice-inspired bottles adorned with removable apple charms which can be attached to a cell phone, key ring, or even a bracelet or a necklace for some added charm.
The limited edition DKNY Be Charmingly Delicious and Red Charmingly Delicious Eau de Toilette's are the latest entry to the best-selling Delicious family of his and her fragrances, which includes the recently introduced DKNY Delicious Night for Women. The Delicious scents are all created to get the most out of life, wherever you may live it.
Founded in 1990, DKNY was created by Donna Karan to be the street side of her luxe Collection. At DKNY, the clothes are friendly, the fashion fast, and the attitude sharp. The mouth-watering Be Delicious scent series for Men and Women is like the city and brand that inspired it -- ripe for love, life and adventure.
Available at Myer, David Jones, the Perfume Connection and selected pharmacies now.
STOCKISTS: 1800 061 326