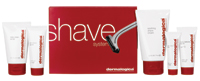 Give dad his greatest shave and healthiest skin ever with the Dermalogica Shave System Kit, containing a regimen of dual-action products for the closest, smoothest, least irritating shave ever.

The world's first, fully customisable shave routine consists of a 3-step approach to prepare the skin for the blade and keep the skin balanced and soothed following the shave resulting in less irritation, redness, ingrown hairs, nicks and cuts.

Dermalogica Shave System Kit includes:
Daily Clean Scrub (44ml)
Pre-Shave Guard (22ml)
Soothing Shave Cream (74ml)
Post-Shave Balm (10ml)
Daily Defense Block SPF15 (22ml)
Invigorating Shave Gel (foil sample)
Dermalogica Shave System Kit
RRP: $68

To locate your nearest Dermalogica stockist, visit www.dermalogica.com.au or call 1800 659 118.