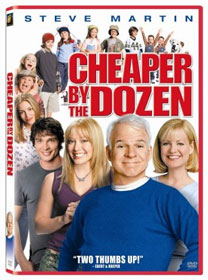 A SUPERSIZE FAMILY COMEDY HIT! - MEET THE BAKER FAMILY (ALL 12 OF THEM!)

Actors: Steve Martin, Bonnie Hunt, Hilary Duff, Piper Perabo, Tom Welling, Ashton Kutcher
Director: Shawn Levy
Rated: G
Running Time: 94 minutes

In modern America, where the average family has 1.87 children, Tom Baker (Steve Martin) and wife Kate (Bonnie Hunt) have decided that life is better if not cheaper by the dozen.

The Bakers live in a small Illinois town where Tom coaches the local college football team. When Tom is offered his dream job coaching a squad at a large university he and Kate uproot the family, much to the displeasure of all 12 children. At the same time, Kate learns that her memoirs are about to be published. Her agent whisks her away to New York to promote the book, leaving Tom at home alone to handle the increasingly unhappy and hectic household, as well as his demanding new job. With all hell breaking loose at home, Kate on the road, and Tom's job on the line, the Baker family ultimately chooses not to have it all, but to love what they do have.

With an all-star cast Steve Martin 5 Time Golden Globe Nominee (Bowfinger, Father of the Bride, Parent Hood, Looney Tunes), Bonnie Hunt 2 Time Golden Globe Nominee (Jerry Maguire, The Green Mile, Return to Me), Piper Perabo (Coyote Ugly, Slap her Shes French, upcoming George and the Dragon), Tom Wellng (TV's Smallville Won Teen Choice Award: Breakout Star, Male), Hilary Duff (Agent Cody Banks, The Lizzie Maguire Movie, teen singing sensation) and Ashton Kutcher (Just Married, Dude Where's My Car? Punk'd TV Series), this is one comedy for the whole family!

This supersized comedy features heaps of special features on the DVD including:- Audio Commentary By Director Shawn Levy, Audio Commentary By the Kids of the Movie, 11 Deleted Scenes With Optional Commentary, 4 Featurettes, 2 Storyboard to Screen Comparison Segments and an Easter Egg.

Did You Know?
1. This film is based on the real life Gilbreth family. The name Gilbreth appears several times throughout the film: Nora says that it's her grandmother's name when the kids are playing the game with the apples; it's Kate's maiden name according to her yearbook; it's Kate's middle name according to the dust jacket of her book.
2. Although this film is supposedly based on the same book that inspired the 1950 film classic (Walter Lang Directed - King And I), the only element it retains from the original is the idea of there being twelve children in one family. Even the names of the characters are changed.
3. The real family had 6 boys and 6 girls.

DVD Special Features:
Disc 1 - Side 1: Full Feature Presentation - Widescreen
Director Commentary by Shawn Levy
Actor Commentary by the Baker Kids
Director's Viewfinder: Creating a Fictional Family - Featurette
Inside Look Garfield Trailer A & Content
Disc 1 - Side 2: Full Feature Presentation - Pan & Scan
6 Deleted Scenes with Director's Commentary
Audio: English Dolby Digital 5.1, Spanish Dolby Surround, French Dolby Surround
Video: Anamorphic Widescreen
Close Captioned: Yes

Review:
Steve Martin, Bonnie Hunt +12 are hilarious as they touch on the very real issues 'having it all' with family and career. Eventually something has to give, with 12 kids, two careers and a chaotic household, this hilarious story is one for the whole family. With an all star cast, this heartwarming comedy has dozens of laughs.